Long Lost
May 23, 2019
You can lose a friend just beneath your nose. You can try so hard to stay friends, but it seems like the whole universe is against you guys. I had it happen to me. Growing up, my best friend was Zoya Fredericks, who lived next door. We had known each other when we were babies and just grew up assuming it was fate that we lived so close.

When we were in fifth grade, Zoya became a big sister. It also meant that Zoya's house next door was too small. Zoya's parents bought a bigger house on the other side of town. Far enough from me, but close enough so Zoya didn't have to switch schools. Now Zoya couldn't be part of our Only Club, which we had made up for just the two of us in kindergarten. We'd been the only two kids in kindergarten who had no siblings. It made us feel special. But without Zoya, I just felt lonely.

Zoya moved across town over spring break, when I was in Pittsburgh visiting my grandparents. When I got back, a new family had already begun moving into the house next door. Even though it would always be Zoya's in my mind, it now belonged to the Andersons-a old couple with four cats.
Meanwhile, Zoya's new neighbors were bringing welcome presents. Baskets of fruit, dinners, flowers, and welcomes for them and the new baby in Zoya's family. That's how Zoya met Blaire Coby. Her parents were rich and owned the largest house in the neighborhood. Blaire took a liking to Zoya immediately, and while I was at home taking care of the Andersons' cats while they were away, Zoya and Blaire we're becoming best friends.

I was horrified to see them together when we came back from spring break. They linked arms and wrote letters to pass back in forth during class in a secret language. Just like Zoya and I used to, with our numbers code. Blaire, Zoya and I tried to be a threesome. But Zoya and Blaire were in the same class, and I wasn't. They were partners for everything because their last names were close in alphabetical order, the way their teacher always partnered them up. I would've been Zoya's partner had I been in their class.

One day, Zoya and Blaire and I had made plans to go to the new cafe opening downtown by their houses. Blaire's butler picked up Zoya and came across town just to get me. But I'd already promised my mother that I'd stay home and do my homework because we'd be busy on Sunday visiting my grandparents. I told Zoya and Blaire to go to the opening without me. What a mistake it had been.

Something happened at the cafe opening. Zoya and Blaire never told me why. But on Monday, they stopped including me. They decided playing on the swings together was too babyish, and that watching the boys play football from the bleachers was much more fun. They started hanging out together after school without me. I slowly drifted apart from Zoya. I realized that Blaire had never really wanted to be my friend. She'd used me to get close to Zoya and convinced her that I wasn't worth it.

Life fell apart then. It seemed like the world had gone bad. My mother had become very sick with cancer, and my dad lost his job. We were forced to move to California, across the country, where mom's special doctor was and where dad had another job offer. I didn't say goodbye to Zoya and Blaire. I never actually told them. We moved right after fifth grade, and I never saw Zoya or Blaire again. At least, that's what I thought.
20 Years Later
I found myself back in New Jersey in my hometown. It was quite a coincidence to find myself back here. After we moved to California, my mom passed away and my dad got a job that caused him to travel. I hated starting a new school every year. I attended college to become a teacher. When I was 22, I got my first job in Wyoming. But I didn't like it there, but I taught there for a long time because the pay was good. That's where I met my husband, Daniel. We married two years later and moved to Texas. Now we're here because this is where Daniel's work had relocated him.

We moved into the neighborhood where Zoya and Blaire used to live. I wonder if either of them still lived in their houses, or still in this town. In the car ride to our new house, we passed the cafe. The cafe that ruined my friendship with Zoya and Blaire when it opened twenty years ago. I told Daniel to stop anyway. After the opening, I'd refused to go into that cafe with my mother. But now is forgiven Zoya and Blaire mentally, I hadn't actually seen them since the move to California.

The cafe parking lot was almost empty. Opposite of what it was when I was eleven. It had been the latest and coolest thing then to go to this cafe. Now it just looked old and rundown.
"This is the cafe?" Daniel asked. I'd told him all about Zoya and Blaire.

I didn't respond because I think he already knew. When I pushed the door open, a little bell tinkled. A single waitress was in the far corner, clearing the table. Two cooks were in the back, sitting in front of laptops waiting for commands. The cashier popped bubblegum and sat on her phone. What had become of this place?

The tinkling caught the attention of the cashier and waitress. I walked boldly to the cashier. The cashier put her phone in a pocket on her apron and straightened her posture.

"Welcome to Rising Cafe, what can I do for you miss?"

I couldn't help noticing that the name tag said the cashier's name was Blaire Coby. Could it be....?

"Blaire Coby? Is that you?" I said. Daniel backed up from the counter and whispered that he would go find a table.

"Who are......Annie Green?" Blaire said. I nodded.

"I'm so glad to see you," Blaire said, coming around the counter and hugging me awkwardly.

"Is Zoya still in town? How did you end up here?" I asked.

"No, Zoya isn't here. After you moved away, Zoya was heartbroken. She stopped coming to school. People say that her mom quit her job to homeschool Zoya. When we graduated high school, Zoya's family up and left without a trace. No one knows what happened to them. Neighbors said they moved to England. A while later, there was a news story from England saying that Zoya's family had been in a terrible car crash in Italy, and bodies got thrown into the ocean. They never found her or her family. Everyone assumed she'd died along with her family."

Zoya was dead? How?

"What about you? You were the rich man's daughter. What happened?"

"After you left and Zoya locked herself away, everyone made fun of me for making such pathetic friends. My dad thought it would lift my spirits if we entered the lottery. My dad had high hopes. When we didn't win, he went and blew all of our money gambling in casinos. We lost everything. I wasn't able to pay for college. I've been working in town for the past fifteen years."

"Oh, Blaire..."

I'd spent the last twenty years blaming Blaire for my friendship with Zoya going wrong when she'd really had just as hard a time after I left.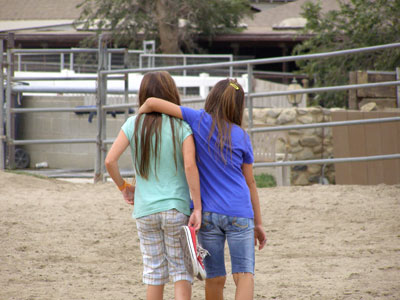 © Austin K., Studio City, CA