In Heaven
May 11, 2009
The bleakly overcast room in the Cancer Ward is watched by a secret police guard day and night. Inside, floorboards creak when the slightest bit of pressure is put on them. They are turning gray from years of accumulated dust and neglectful cleaning by the hospital personnel. Follow these boards to where they meet the wall. There, a gray uneven line of molding wraps around the room. The gray paint on the walls is cracked with age. In the corner facing north hangs a curtain-less window, framed by rotting chestnut-colored wood. The upper left pane is chipped and a winter breeze chills the room. A nightstand rests in a nook with a single cup of water placed on it. An intravenous supporter neighbors the stand. Its bag is empty, and has been so for many days, intentionally disregarded. The tube connects to the frail arm of a languishing young woman. An outline of her weak body can barely be made out underneath the worn sheets of the hospital bed. Her striking auburn hair contrasts with her pale skin. Dark eyebrows arch over her large olive eyes, which are closed. Beneath defined cheekbones and an Illyrian nose (straight and slightly pointed at the end), are her dried, thin lips. Edon is holding a moistened napkin, wetting her lips. Just an hour before, he had finally gained permission to enter the room. Drita is in her final moments. He looks up at the window. It is snowing.

The snow was frantically falling over the crowded bus stop. People were pushing and shoving, trying to board the only bus to the labor camp. A young man accompanying a little girl had tightly clasped her hand and was tugging her through the mob. With great effort they climbed onto the bus, not expecting to find a seat. An old lady with a hooked nose was seated, her fat sagging on all sides. She saw the little girl and motioned her forward. Skipping toward the lady, followed by Edon, her two braids bobbed up and down and her dress flowed with her agile body as she moved. The little girl stared at the woman with a childish spark of curiosity in her olive eyes. The old lady took the girl onto her lap. "What is your name, sweet?"
"Drita," she replied.
"Where are you going?" she asked as her eyebrows furrowed.
"I am going to see my father, in Burreli Camp."
"Burreli concentration Camp?!" gasped the old woman. She threw Drita off of her lap and wiped her skirt as though it had been soiled. Drita plunged straight into Edon's arms, frightened.
"Dearest Drita, she is not like us," said Edon with a distant look in his eyes. The bus came to a halt.


Edon's thoughts are interrupted by a slight murmuring noise. He dabs at Drita's lips again. They part slightly as she shifts uncomfortably on the mattress. "Father, father…"
Barbed wire surrounded the concentration camp. A crow flew overhead. Within the area enclosed by the fencing were two guards standing before a wrought iron gate. They paid no attention to the young man waiting to be assisted. Not too far from this scene was a little girl, wrapped in a blue shawl, shivering. She overheard the guards speaking.
"Have you heard about the political prisoner that dropped dead while mining?"
"Serves him right," stated the other guard, laughing.
Drita's heart stopped. Tears rolled down her cheeks and froze on the way. "Should that be my father? Dear Lord! Not my father…"
On the other side of the gate, a man in tattered clothing stopped pushing the wagon filled with copper ore. He rushed toward the gate.
"Drita!"
She ran toward him. He had a rugged beard and a ripped coat. His hands, burned from mining copper, reached through the opening in the gate to embrace little Drita. The icy metal pressed against their coats and they both quivered. The guards eyed them maliciously; they did not stop them, but held a tight grip on their guns. With tears of joy, Drita whispered, "Thank you, Jesus."


Edon is sitting beside Drita. He wets her lips one last time. As he does so, Drita's eyes open, just slightly, but their color radiates like rays of the sun and a twinkle of other-worldly joy infuses them.
Edon was waiting outside the Upper School building. He had leaned against the crumbling brick wall, wondering why he was "urgently needed here". A cold breeze whisked past Edon, making his hair stand on edge. A girl was running toward him from the main building. Suddenly Edon realized it was Monda, Drita's best friend.
"Where is Drita?" he asked frantically.
"She has fainted! Come help!"
"Fainted! Why?"
"They did not let her take the qualifying senior Literature exam. The administrator said it was decided by the Revolutionary Directorate, for she is the 'daughter of an anticommunist'."
Edon almost spit with disgust. Drita had spent months studying for that final exam, so she may attend University for literature and eventually aspire to her dream of becoming a writer. He immediately stopped his train of thought—Drita was unconscious. He hurried behind Monda as she led him to a limp Drita on the hallway floor, her olive eyes had opened. Even as he lifted Drita and brought her home, Edon was filled with anger at the oppressive system.
***
The joy of Liberty fills the air. The Berlin wall has been torn down. A single autumn leaf falls from the lofty tree that stands above the bench on which Edon sits. He is holding a new paperback book, with pages yearning to be read, a story longing to be told. The front cover of the book is very simple: the title Drita and a photograph. Seeing the photograph of his young friend stings him with pain. "Drita," his whispers, and thousands of thoughts pour into his mind. He practically holds her in his hands—her book—a best seller, but first and foremost, her diary.
Edon flips through the book. A strong gust of wind blows the pages between his fingers and it opens to page 233.

WINGS TIED
From all the angels in the clouds
One was trapped on earth,
Envied by mortals

Flawless beauty, ageless smarts
Degraded, wings tied.
On land residing
Trampled, forgotten
"Forbidden to spread its wings"…
"An angel, she was," thinks Edon. She had blossomed into a writer, a poet, and yet— just as quickly—she had left. She left the world as an angel. Edon lifts his head and sees a young girl laughing and proudly carrying her schoolbooks, sharing joy with those around her. "Much like Drita…" he murmurs. But where was Drita? Edon can only hope she has gone up to heaven, where she can accomplish her broken dreams.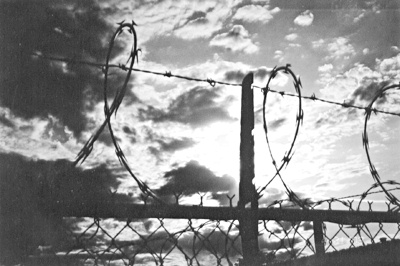 © Jessie W., Wichita Falls, TX