The Solution
MAG
July 23, 2009
He was a middle-aged man, only 56, whose droopy facial fabric and scraggly stubble rendered the illusion of one far older. Freshly retired from the cubicle incarceration of his woeful career, Jeff was warped by boredom, afflicted by depression, poisoned by loneliness. All he had was his newfound hobby, if you could even call it that; this luckily proved to be his escape, his outlet, his antidote.

So every day he would awaken, gather the few necessary supplies, and journey into the city. He would perch atop a building downtown, on a roof not too squat, nor too lofty, but a perfect height for both clarity and angle of view. Once situated, he would wait patiently until rush hour, when people swarmed the sidewalks, and buses, cars, and taxicabs saturated the streets. This was perfect, for the myriad people and the music of the metropolis bolstered his work with a sense of spontaneity.

Once the rush hour commenced, he would jut out over the ledge of the building, peruse leisurely through the gobs of people, and then very deliberately find his subject. Once he spotted his target, he would peer through his magnified viewfinder, pinpoint his person of choice, and with impeccable timing, gingerly press the trigger. One shot, one opportunity for a proper execution, that's all that was needed.

After recovering from the obligatory adrenaline rush, he would swiftly make the trek home then drown the rest of his day in cheap cognac and a grand sense of satisfaction.

Today, however, would be different. He would stick around his suburban town. For roughly a year he had passed this spot every day. It always attracted him but he had never stopped; his work had always seemed more apropos of an urban environment.

Today, of all days, was ripe for an anomaly, a turning point of sorts. So he made his way a few blocks north of his townhouse to the small overpass overlooking the creek. A trail ran adjacent. He hunkered amid a patch of prairie grass, a steaming thermos of coffee by his side. There he sat, antsy, jittery, and apprehensive, for he wasn't sure if this would work out. He remained hopeful though, continuing to wait, legs trembling, fingernails jammed between his teeth.

No more than 30 minutes later, the beat of a jogger's tread caught his attention. What he saw pleased him: a young mother trotting along, pushing a stroller, her babies snuggly tucked in. Perfect timing, he thought, nobody else is around.

Hastily and discreetly, he took hold of his gear, gazed through the magnifier, as any good sniper would, and tediously calibrated his focus. He became a little quivery and his trigger hand jerked. He tried to recoup his concentration, his finger hovering over the trigger and pressing at a second he thought was sufficiently well timed. He did in fact succeed: his accuracy, however, was noticeably thwarted.

Later that evening, Jeffrey sat at his desk, face in hands, mulling over what his life had become, contemplating how he would deal with his sickened mind, sobbing. As he sat on his bed that night, he realized what he must do. He picked up the object he had used to shoot so many people and aimed it at his face. He punched the trigger, one last time.

He then, ever so tentatively, packed up the camera and hid it in a secret place before dozing off. Immersed in the comfort of his dreams, he pictured a new craft, one that couldn't be hindered by his worsening Parkinson's Disease and the uncontrollable tremors that came with it. Dreams of photo editing.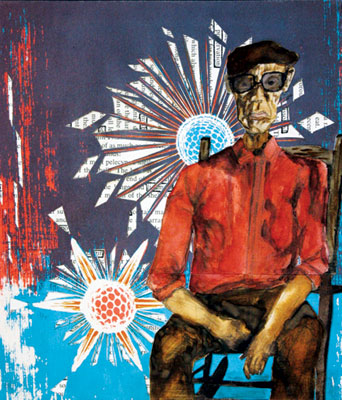 © Megan B., Harpers Ferry, WV