My Best Friend
September 8, 2009
I dropped the shovel and ran to the house. Through the back door, up the stairs, into my room I flew. I fell down on my bed, practically blinded by my tears. My brain was in a fog. I couldn't believe it.

All I wanted was to sit in my room and cry. But at the same time, I didn't. I felt like a prisoner in my room. I wanted to lie on the ground beside Lilly's grave. I wanted my tears to flow all over the dirt and create a huge mud puddle that swallowed me up. I wanted to dig down into the earth and pull up my best friend, and hug her cold body one last time.

But it was too late for that. Lilly was going to be under the ground, right in that spot, forever. And there was no way I could bring her back.

The worst part of all was it was my fault.

Lilly was seventeen years old, quite old for a dog. She was older than me. She had been sick for a few months. The vet gave us medicine to give her orally every eight hours. I was supposed to give her the medicine at 4pm. At 5 I realized I'd forgotten Lilly's medicine. I ran to her bed. She was there, as usual. I got out the dropper and tried to give her medicine. Her lips wouldn't open. I poked her eye. No flinch. I shook her. Nothing.

At first, I was just thinking to myself, "Oh. Lilly's dead." Then it sunk in. And I collapsed on the floor, sobbing into her fur. Then I was mad. I stood up and started screaming at Lilly to wake up. For once in her life, she didn't obey my commands.

Lilly's death was my fault. I was firmly convinced that if I had given her medicine at 4, she would still be alive.

I knew it wasn't true. She was sickly. She was dying anyway. The medicine might have kept her alive for a couple more minutes. That's all.

But I thought sickness was terribly unfair, so I had to blame it on someone. I seemed like the best candidate.

I cried myself to sleep that night. My pillow was soaked. My shirt sleeves were soaked. I could not fathom the fact that my best friend was gone. It wasn't happening.

But I woke up in the morning, and I was not having a bad dream. Lilly was indeed a cold, stiff lump on the floor.

So here I was, sobbing on my bed right after the burial. I had kept delaying putting my dog in the ground. I kept hugging her one last time. I wanted to say goodbye, but I couldn't speak. I was crying too hard.

Again, my pillow was soaked. I stood up and grabbed a few tissues. I blew my nose atleast ten times. My eyes were red and puffy. Mom knocked on the door.

"Jackie, can I come in?" she asked.

"Yes."

Mom came in and sat on the bed next to me. I began sobbing once again. Mom hugged me tight.

"Don't tell me it's gonna be okay," I told Mom, "Cause it's not."

"Don't worry, I won't." Mom stroked my hair soothingly. "You can be sad for as long as you want."

"I'll never get another dog as great as Lilly," I said. "She was my best friend. You can't replace a best friend."

Mom said nothing. She just hugged me. And I cried. And then Mom cried. And then Dad came in. And then he cried. We were a mess.

One month later, Mom and Dad took me to the animal shelter. Contrary to my belief, I was okay. I still was very sad thinking about Lilly. But I was okay. I would live.

We went into the shelter and looked at the dogs. A golden retriever came right up to the edge of her pen and said hello to us. I rubbed her head, then her back. Our eyes met. The dog looked so happy to see me. She looked like she loved me. I had to get her.

We got that golden retriever. I named her Rose. She was a wonderful dog. Almost as wonderful as Lilly. You may not be able to replace a best friend, but I'd say Rose came pretty close.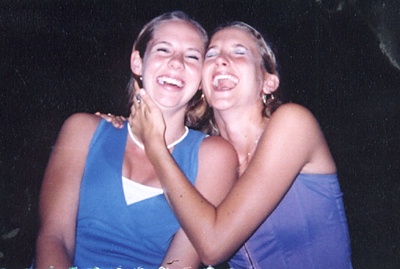 © Elena F., Platte City, MO