Terror of a Blue Morning
October 6, 2009
On September 10, 2001 a Canadian jet that was crossing over the Atlantic Ocean had a fuel shortage. After that incident not all people wanted to ride in any planes. All I know is that the pilot 49 year old Robert Piche landed safely almost a hundred miles away without any serious injuries. He saved 304 peoples life. Well the news paper said that this happened about a month ago. Now on September 13, 2001 we all wish that was the only incident that contained a plane.
On September 11, 2001 within a span of 18 minutes two planes crashed into the world trade center. At 9:00 in the morning. I was sitting at my window when I heard a sonic boom and dust flew past me. I jumped off the sill and ran outside to see what was going on. That was a big mistake. Clouds of dust and smog filled my asthmatic lungs. I ran back inside and into my parent's room. Mother was frantically looking out the window while Father was calling the police. I took the mask from the linen closet and set out a line. An hour had past as I waited on the "Donate blood to survivors" line. The second plane had crashed and by 10:27 both towers had collapsed. Almost 1,000 people donated blood that after noon. Soon we all made a crowd holding up pictures of anyone that we know or saw. Someone behind me named Alan Flippen said "Did you see it? I came to work on 46th street just before 9:00 I saw an American airlines Boeing 767 flying very low in the direction of the towers.

Even after the firefighters and police showed up heavy black smoke billowed into the sky above the gaping holes in the 110 story twin towers. Every time a plane flies off just know that the procedure has changed just so this catastrophe never happens again.

9-11-01 had a impact on our lives. It was a day that history will never let us forget. That day the head chef at the restaurant Windows of the World was coming in late he survived because he was not in the elevator and not in the kitchen. Many people came out badly injured but with their lives. More suffered the agonizing pain of a terrorist attack.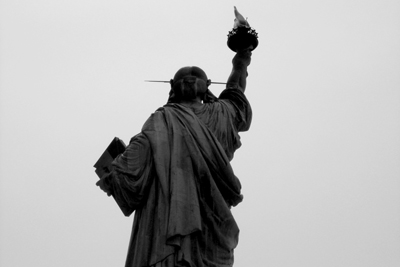 © Conor G., Harvard, MA