A Candle and White Cross
October 30, 2009
She always sat in the back of the class. She never said much, and she always covered her face with her hair. It wasn't until months later that I noticed she was crying. She would hang her head low in the hallways and, even though we had the same schedule, I never talked to her. The one time I ever saw her at lunch, she was in a corner. I never thought about it then, but I guess I sort of protected her. I would watch her walk down the halls, if a guy tripped her, I would make sure to get him back later. It was like I wanted to be the voice she never had, until the last day she did.

She lived across the street from me, so when I smelt the smoke from her house, I was concerned, but tried to blow it off. Then while doing my homework, I saw the flames. I ran outside, thinking I could save her, I could hear sirens coming, but I went inside her house anyway. I tried to find her, but a wall collapsed and fell on top of me. A fireman came and pulled me out. I was hysterical with tears, because I couldn't save her. He told me that she was dead before I had seen the flames. She had started the fire, trying to burn off her own face. There was no one home, and there was nothing anyone could have done.

After her suicide, many people moved off our street. The school had an assembly for her, but nobody cared. She wasn't even missed. I went to her funeral, and was the only person there besides her parents and the bishop. I left one red rose on her casket and a bouquet of red and orange flowers by her tomb. For a while there was a lit candle left by a white cross in her front yard, but when that parents moved, the candle stopped being lit everyday and eventually disappeared.

Life went on, but I noticed the change. At lunch, I'd still scan the tables to see if she was sitting in the hidden corner. I still looked to the back of class to see if she was crying. So even though I never talked to her, and I knew she was dead, I still wanted to see that girl in the back of the class.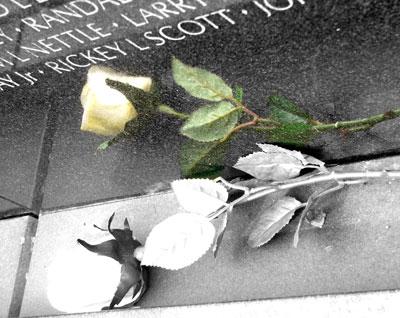 © Kimber E., Yorktown, VA