A Lonely Flag
December 8, 2009
She keeps her head bowed low as she approaches the wall. Most think she is praying and turn away to look back at their reflections on the black stone. Only she knows she keeps her head bowed so they can't see her tears.

The path is long and stretches far ahead of her. She suddenly becomes tired and weary. She wants to turn back. She can't make it to the end. She can't. It seems so far away, where the path turns left and carries her along the second part of the wall, the part with names of deceased etched in.

She feels the lump in her pocket against her thigh. It rubs uncomfortably and reminds her that she must keep walking. She starts out, keeping her head bowed in a common mourning gesture, not daring to look to her right where stands a part of the wall.

The wall is a fortress, watching the minions coming to grieve over those the wall represents. It is black, the color his hair was. When you dare to stare into the wall, you can see your reflection there. It mirrors the tears staining your cheeks and the catches the glint of sorrow in your eyes. And overriding your wet sticky face reflected in the past are names. The names are the gravestones
buried in the black graveyard. They hold memories of love and hatred. They -- like the surface of the wall -- reflect the memories of shouting, hugging, screaming, crying, the nightmares. And worst of all, the day your worst nightmare was turned into reality flashes before your eyes. The scream that didn't seem to be yours, the feeling of emptiness, nothing, an open gray sky, soft fog, gentle colorless water.

But she tries not to think about that. She walks like a zombie, unable to feel her own feet as she trudges down the path. She doesn't know when she turned but finds herself on the left branch of the path, getting slowly closer and closer until finally, she knows she is there. She doesn't really notice it, though, feeling nothing but the empty hole of loss. It is much later when she realizes her thigh no longer feels the weight of the object that was in her pocket. Before she can recall emotions, the wall is far away, a distant black line, the small wisp of red, white, and blue barely visible blowing gently in the breeze where she was standing.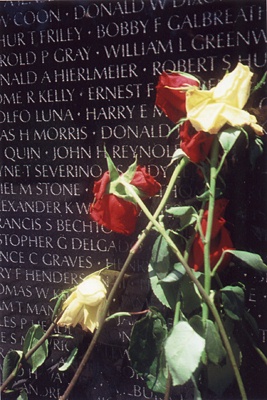 © Justin R., Angola, IN