The Beginning
December 6, 2009
"Lauren! You were so good! Come on, let me help you out of that thing," Lindsay shouted at me. She was too good to me, I didn't deserve so much praise for singing in a high school musical.

"Thanks Linds, so were you," I said, my voice muffled because she was pulling me huge yellow Belle dress over my head.

"Please, I bet you didn't even hear me, I'm only in principal chorus, nothing special," Lindsay said with a frown. I knew that she'd tried out for Belle too but she really was amazing.

"Sure I did, you hit your big note in Be Our Guest. It was perfect, Linds." She smiled, grudgingly, but a grin, all the same. "I can get the rest, don't worry about it," I said shooing her away. I just needed help getting the costume off, I could do the rest.

"Alright, see you tomorrow!" she said as she skipped out of the dressing room. I was smiling, hanging up my dress, when I felt him stabbing at my head. Don't let him in, I thought. But he gave up too easily, like he didn't care, which made me more suspicious than if he'd insisted. I dug back at him until I finally saw what he'd wanted me to see at first. It was the face of a cute young girl. She was tall, athletic-looking, and dressed in an old yellow dress from when we performed Oklahoma and too much make-up. A musical girl, definitely. She was walking down the hall toward the choir hallway, which meant that he could see her now, so he was here…

Panic broke out like a cold sweat, and I remembered seeing her at one of the dress rehearsals, remembered thinking how she was going to make a great lead role when she got older. I caught what he was thinking, what he planned for her and felt fury hotter than a fever, making adrenaline rush through my veins. I was vaguely felt something touch my forehead but I concentrated on his thoughts, what his intentions were, what he wanted to do, and most importantly, when. He was hiding his reasons for taking her but his concentration on hiding that let other things slip.
Tonight, he was taking her tonight. I forced myself out of his head, to go find this girl destined for doom.
"Lauren? Thank goodness, I was about to call an ambulance. What happened? Are you alright?" Haley, another friend, fresh from musical, babbled quickly.
"I'm fine, just need to find someone…" I said distractedly, trying to get up and out of the dressing room.
"I think you should lay down a while or something. You're pale as a sheet," Haley said, voice cracking. I always fainted when I got in his head but as exhausting as it was, I had to find the mystery girl.
"No, no, I'm fine, just need to get up and going. Thanks though Haley," I said as I rushed out the dressing room door before she had a chance to stop me. I hurried down the choir hallway, looking for a girl whose name I still didn't know while trying to be gracious but brief about all the praise being thrown my way. I finally spotted the same reddish-brown curls of her hair as she came out of the choir room, carrying her yellow dress and humming. I grabbed her arm and dragged her into an empty practice room and shut the door. Her eyes were wide as she stared at me. She looked like she was about to ask questions but she had no time
"You," I started but had to take a deep breath and start over. "You need to get out of here. Someone is looking for you and he cannot find you, do you understand?" I asked.

"N-no. What do you mean, I have to get out? Who's coming for me? Why are you telling me?" She said you like I had some kind of gate around me that prevented me from ever looking at her but I pushed that away as I tried to focus.
"There's not a lot of time to explain but you're in serious trouble and I happen to know about it. I'll help hide you and we'll think of something to do. I just don't know how long to keep you in one place!" I burst in frustration. He could try to get into my head but I'd always been successful at blocking him out but if I dreamed about where I'd hid her, then I'd have no way of knowing he knew where she was. I couldn't block him in my sleep. I should get someone else's help but who could I tell about this whole thing?
"Okay, I have to hide. Let's go. But can you explain some stuff on the way to wherever we're going?" she asked, putting on a brave face but her lip was wavering and her hands were running agitatedly through her hair.
"Sure, let's go," I said, hoping I wasn't dooming her by banking on his fear of the place I was taking her. I could only hope his fear would be enough to keep him away.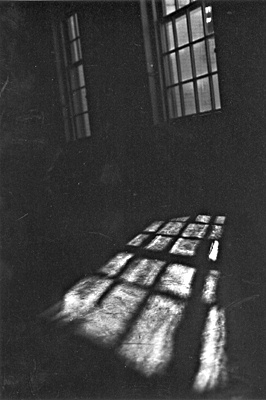 © Mary A., Fullerton, CA