True Pain
February 12, 2010
The one thing I have ever loved in my life is my brother Michael. I remember taking a picture with Michael when I was still in diapers. Michael was sleeping under the cool shade of our pecan tree. I put my bottle in his mouth and acted like he was a baby doll. I saw my mother run out with a camera in her hand. My brothers were closer to me than ever when that horrible day came. Michael would be dreaming forever happy dreams in heaven. Ever since that day I remember that picture of Michael in my head.

Every time I go to sleep I wish Michael's death was a terrible dream. I guess my wish will never come true. I still dread my brother's death on his special birthday St. Patrick's Day. I never wear green so somebody could pinch me and wake me from my depressing dream. Everyday I mourn my Brother Michael's death silently by myself. The tears I shed fall onto Atlanta. Atlanta is a cheerleader bear given to me by Michael. Atlanta holds my tears that I shed every night praying for my brother to come back to my life. I guess God doesn't answer my prayers. But I still love God though from the faith I have in him. He will bring me even closer to Michael when the time is right. I hope that I get to live life the fullest even without Michael by my side. Also I hope to see him again soon. I know God is close to me to help me mend my broken heart. My broken heart will soon be healed by my faith in God that he will soon take me to my brother. Michael, Michael is all I think through the day. In my sleep I scream Michael. I don't see Michael I see a devil laughing in my face. I scream even louder for Michael to save me from the devil. Tears run down my face. I hear loud voices in my head. The devil laughs even louder as I cry to heaven for Michael to save me from the evil devil. I hear Michael's voice say a prayer that he taught me to keep the devil away:

St. Michael the Archangel,

defend us in the day of battle;

be our safeguard against the wiles

and wickedness of the devil. May

God rebuke him, we humbly pray,

and do thou, O prince of the heavenly

host , by the power of God

cast into hell Satan and all the

other evil spirits, who prowl

through the world, seeking the

ruin of souls.

I didn't have the strength or the hope to say the prayer. As Michael starts to pray I get more and more faith that the devil will go away. Every year the day of his death I see the devil but Michael never comes to save me from the evil spirit. It scares me at night knowing Michael is not here to protect me from my bad dreams. Before I go to sleep at night I pray to Atlanta. I feel that Atlanta is my connection to Michael. Everything I say to Atlanta goes up to Michael. A couple of nights ago after I finished talking to Atlanta, I started to hear sobbing. It sounded very close to me. The sobbing came from Atlanta. Even though Atlanta was a stuffed bear tears came to her eyes. Somebody or something was saying "I love you… I hope your life is going in the right direction. God be with you lil' sis." When I heard those words "lil' sis." I realized Atlanta was truly my connection to Michael. At school the counselor tells me to remember the good times we shared together. Each time I try to remember the good, tears well in my eyes. One day the counselor said I was lucky to have a family who loved me. In my mind I think yah, yah sure, sure they all say that. Sometimes at school I start to cry. Girls just stare and say what's her problem. There's only one girl who understands my problems. Her name is Celena. She comes and hugs me and reassures me it will be all right. She helps me through it all holding me till the last tears fall. She is a wonderful friend we call each other sisters. In times of need we help each other through the pain.

We shared so much laughter shared so many tears.

We had a special friendship that grew stronger each year.

We were not siblings by birth but we knew from the start,

We were put together, to be siblings of the heart.

Now I know that people care as much as Michael's heart did. It's still hard for me at night to cope with the fact that I will never see Michael again. I just hope that I will wake the next day. I still see the devil each year at the same time. Each year I have more and more faith to fight the devil off. Sometimes the prayer doesn't work. As I start to remember Michael a smile comes to my face. I guess happiness scares the devil away. Unexpectedly the devil comes to sight, even when I'm awake. The devil tells me "Michael isn't in heaven. He is dying very happily in hell!" I start to cry louder and louder. The devil laughs louder and louder. I kept telling myself don't give in. He wants you to believe, don't believe!!!!!!!!!! Michael is in heaven! Think of Michael. I tell the devil. "Take me to him show me that he is happy." The devil starts to drift away. Finally he vanishes away. With Michael's spirit, God's love, and Celena's reassurance, I can live with more hope that people care as much as Michael did. I will see Michael again knowing that he cares. Those are the things I truly love in my life.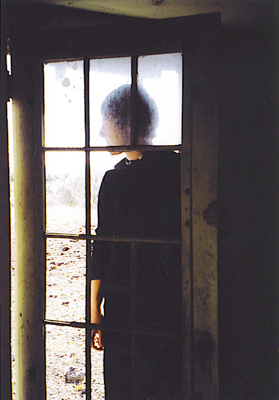 © Lindsay S., Billings, MT