You hadn't known
March 2, 2010
"I wish I knew Latin," were the words you spoke when you came across the inscription on the side of the mining tunnel. Your big city friends laughed nervously and continuously peered twords the exit- as if it were going to go away if they turned their backs too long. You, for one, didn't mind at all. Your big sister brought you in here all the time so she wouldn't get caught smoking. Her and her friend's cigarettes littered the remnants of mining cart tracks. That had been a while ago. Before she gone.
You had left too, but gone to a different place, into the city. When your parents had approved of this decision, you were shocked. They hadn't wanted your sister to go. But she had gone...gone somewhere else. Now accustomed to the big buildings and concrete slabs, the tall yellow grass and sweet smell of lavender felt strange too you, like running into someone that had teased you in elementary school.
It had started when your friends wanted out. Out of the city for a while. They decided to take a train, to see where it had led. You didn't tell them your home town was the upcoming destination when they picked the train to board. On the platform, you had held your head low; as if someone would have recognized you without your French braids and overalls, you now thought smiling.
You had hoped no one would recognize you as you stepped into the convenience store, looking for some Snapple and gum. You thought the girl at the register looked familiar but you couldn't place her face. As your friends asked for a pack of Camels, it hit you. You had gone to high school with her older brother. You turned a bit pink and tried to hide your face.
This town embarrassed you. It made you feel like a nobody. Your friends were all from the city, or the rich suburbs surrounding it. You didn't want them to think of you as a hillbilly. They laughed at the tire swings in trees and the faded paint jobs, and kicked up dirt on the unpaved drive ways and roads.
The mine had been their idea. One of them looked up a map of your town on their phone. An expensive touch screen. The mine was marked, and they lead you down the roads and across the fields you knew so well. You learned to ride a bike on Mulbury. You had your first kiss on Second. You knew the path they were taking wouldn't pass your house. That would be too much for you. Ignoring the caution and do not enter signs, your friends dragged you into the mine.
You tried to stay strong; you knew this was the spot, where it had happened, where the police were, where your mom had forbidden you from ever going again. The spot where she had come. Where she had brought her Latin and cartoon books after school. Now you knew.
"I know Latin," one of your friends will reply, pointing his flashlight on the ground as he will step over, hoping not to trip on the loose gravel mixed in with the butts. Once he makes it too you, he'll touch the chiseled letters, trying to act like he's in an Indiana Jones movie. He'll squint at the letters and look at you dramatically. "It says: Don't look behind you."
Of course, you all turn around, blaring your flashlights nervously at the wall. At first, you all scream, but then you realize what it actually is. Someone had chiseled Wolverine into the chalky wall, more words underneath. Your friend translated, saying, "There's nothing for me in this town. I can't get out." You knew exactly who.
But you hadn't seen the message; you hadn't known the final message. You had never seen the noose hanging from the dusty broken support frame around the mine ceiling. You'd lean your back against the first wall, with the first Latin message on it. You would slide to the ground on the dusty gravel, getting your designer jeans dirty. You would know now. You would know why your parents had let you go. Because they hadn't let her, she made herself go.
"What's wrong?" your friends will ask in fake concern. "My sister," you would whisper, tears streaming down your cheeks.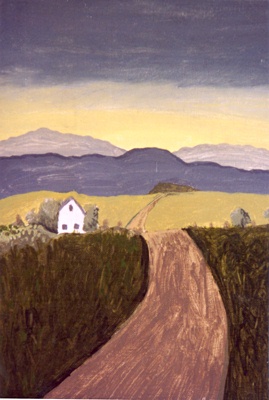 © Alisa L., Tracy, CA