R.I.P. Trent McKinley
March 8, 2010
His vivid, sapphire eyes stared intensely at me and I gazed back at him. I love him, I thought as I examined his silky, dirty blond hair that smoothly covered his head. He had a few faint freckles that peppered the rim of his petite nose and his velvety, rosy lips mouthed three words to me, I love you. Every time he said those words to me I felt bliss spread through my heart. I felt a tear form at the rim of my eye as I looked at him in his hospital bed. He looked so fragile and brittle unlike his usually sturdy self. I dug my head into his chest and the let the steaming tears soak his hospital gown. He placed his hand on my head to show that he cared as I listened to the beat oh his heart grow faint.

Ta-da-da bum, bum, bum sang the rain as it pattered against the glass of my car window. The window wipers swooshed across the sprinkled windows as the rain pounded on my little dodge neon. Thunder boomed throughout the dark night sky and lightning flashed. Soon the rain turned to hail and my vision of the dark, vacant road was unclear. But even though my surroundings were hard to see the deer soon came into sight. The poor fawn was terrified and froze as he saw the two large lights that looked like the eyes of a monster drawing near. And I, like the fawn, froze. Instead of taking the wheel and moving out of the way I closed my eyes and let go of the wheel. I felt the car lose control and the last thing I saw was the trunk of a colossal tree crushing my windshield.

"Hannah, you're going to be ok." I heard a voice say. "The police are on there way." The voice speaking sounded so familiar, but I couldn't place who it was. I slightly opened my eyes and I saw muscular arms holding me and the charming face of Trent McKinley. As soon as I saw his gorgeous eyes I quickly closed my eyes again. I felt my blood pressure raise and a rosy pink color brush against my cheeks. I felt a piercing pain on my forehead and I raised my hand towards the pain. I looked at my hand and was sickened to find blood.

"Hannah!" Trent exclaimed when he saw I was awake.

"What happened?" I asked.

"I was driving home when I saw your car. It's wrecked. When I pulled you out of the car I thought you were –"

"You thought I was what?"

"Dead."

"Oh."

"Yeah the gash on your head is really bad." After I heard his words I tried to stand up to get a view of my car and my head, but as soon as I stood up I felt faint. Trent quickly stood up and caught me before I fell.

"Just stay sitting down until the police come." I nodded my head. I looked at the face of the person who seemed to care so much whether or not I was ok. His face was beautiful, like an angel. It seemed so unreal to be lying in his sturdy arms and soon I was I lost in his eyes. Not only was Trent good-looking, but his caring, amusing personality charmed almost every girl at my school.

I heard sirens and the slam of car doors and I was soon raised out of Trent's arms and placed in a stretcher. I felt a needle prick my arm. I heard the frantic voice of my mother trying to get into the ambulance car and soon I fell asleep. I woke up in a hospital bed and saw people surrounding me: my mother sat by my side, my father stood holding her hand, my younger brother looking sheepishly at the floor, a few of my close friends stood in the room, and Trent sat by the window almost nodding off to sleep.

"Honey, how are you feeling?" My mom asked.

"Ok, I guess." I said. After a few minutes of my family and friends surrounding me cooing over me like I was baby I was placed in a wheelchair and brought home.


I looked at my forehead, all stitched up and bruised, and sighed as I strapped my backpack on. I stepped into my mom's car and looked out the car window as she drove me to school. A few of my friends quickly walked up to me assuring me I looked fine.

"You guys are such liars." I said under my breath. I walked into my trigonometry class.

"Look guys, it's Frankenstein!" I heard a boy yell. The whole class started roaring in laughter. I looked down and held back the tears.

"Dude, lay off." I heard a voice say. I raised my head and saw Trent staring my offender in the eye. Frightened by Trent's strongly built body, he closed his mouth and nodded. Trent came over and sat next to me. "You ok?" he asked. I nodded my head smiling.

"Yeah thanks."

The next few months seemed to fly by, but the more time I spent with Trent the more I seemed to fall in love with him. Every time he came near gladness swept on to me. We became close friends, but as time passed our friendship had grown to something deeper, something words couldn't explain.

"Hannah, have I ever told you're beautiful." Trent said as he stared at me. He seemed to be analyzing me like I was a precious gem that meant the world to him.

"No, you haven't." I said looking up.

"Well you're the most beautiful girl I have ever met." Trent said gazing into my eyes. I looked down not knowing what to say. "This probably sounds really cheesy, but I think I love you." Trent said blushing.

"I think I love you too." I managed to say. And what happened next surprised me. Trent took my hair and placed it behind my ear; he leaned close and softly kissed my lips. I inhaled the smell of his cologne and then lifted my head. We were both so shocked about what had happened, but both of us knew it had been coming. From that day on we were inseparable.

Senior year flew by and each day spent with Trent stuck in my mind. Sitting outside drinking peanut filled cokes, laying under the moon on calm, cool nights, moment of sitting in the park on a picnic blanket calling each other loving names were just a few of the things Trent and I did together. And I tried to make each moment with Trent the best it possibly could be. For I knew summer was near and Trent would be leaving soon. Around mid-summer Trent would be leaving off to war like many of the other boys at my school who were ready to show off their bravery against the army from Iraq. That was the day I dreaded, the day I would see Trent leave on a plane to an uncertain fate.

Days turned to weeks, and weeks to months, and the day of Trent's departure had arrived. I felt the tears pour down my eyes without stop as Trent gave his final good-bye. Every night Trent made sure to call assuring me he was safe. I told him about college and how much I missed him and each call ended with a heart breaking good bye. One night Trent never called. In my head the worst thoughts kept coming through my mind. I shook it off, He's just busy and didn't get a chance to call, cool it Hannah. He's fine, I thought. The next few days he didn't call and then I really started to get worried.

The day I got the call I was excited to see Trent had called me, but as soon as I heard the voice wasn't his I started crying.

"Hannah McGuire?" I heard a man with a very solemn voice say.

"Ye-es?" I said stumbling. I knew the bad news was coming.

"I am sorry to tell you Trent McKinley was shot yesterday." I felt the gasp come out.

"His almost certain death is near and he had been care flighted to the Renown hospital a few blocks from your home." I was relieved to hear that Trent had not died yet, but knowing he would leave me forever filled me with so much pain.

I drove to hospital as fast as I could and was lead to his room. As soon as I entered his room I was heart broken to see him connected to so many machines just so he could spend a few more moments with his loved ones. Trent looked at me and smiled. Trent's friends and family entered in and out, but I never left his side and a little past midnight Trent gave out his last breath.

The love Trent and I had shared was special. I never had met anyone like him and even though he left his body, I knew he would always be in my heart.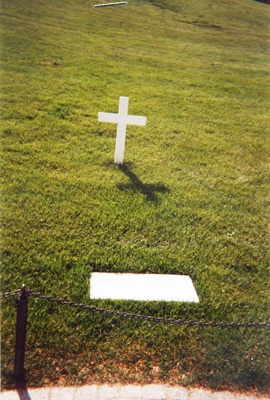 © Whitney T., Glenpool, OK