Thank You For Weeding
March 28, 2010
The morning dew on the grass felt great on my bare feet. I wanted to lie down and sleep on the grass. The lawn was so green and inviting.
It wasn't really fair. This was someone else's lawn, someone else's property. If they saw me standing here on the corner of their lawn, holding my shoes, they would probably shoo me away and mark me off in their mind as a psycho or a lawn fetish.
This was the only green lawn on this street, the block, side of town, the whole town, and probably the county. Everyone else was trying to save money by not watering their grass as often as these people do. They let their lawn wilt and die. Dead yellow grass that was crunchy instead of this nice soft turf.
I smiled down at the grass and my toes. They wiggled in response. When I was older I would have a nice lush lawn like these, except I would line the grass with flowers and grow a rose bush.
A sunrise made the scene that much better. Soft, natural light glistened on the dew. Everything here was beautiful. Maybe the flowers and a rose bush would be too much. This lawn was perfect without any other extravagances.
I looked up as I heard the door of the house open up. A large man wearing nothing but a pair boxer shorts. He walked out holding a cup of coffee that on its side said, "It Monday. That's my problem." He was most likely in search of a paper.
"Um, hi." He said tilting his head as he saw me.
"Sorry." I apologized. "I like your lawn."
"Thank you." He said gruffly.
I put my shoes back on and left the beautiful and magnificent grass. I would have argued to stay there, but the man had ruined the grace of the scene. Besides, the lawn would still be there tomorrow.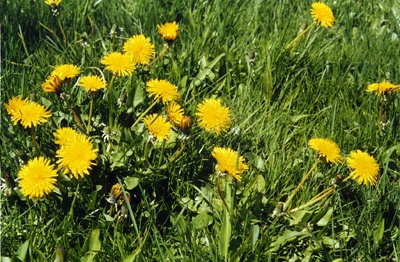 © Hoang P., Rochester, NY