Broken to Beautiful Part 1
April 25, 2010
Why? Why didn't we turn right? Why didn't that guy stop? Why didn't I drive? Why?

The funeral is today but I'm not going. I can't. I can't see his body; with his eyes blank and lifeless dressed in some stupid outfit he would never wear. He's not my Jake anymore. Not the one I grew up with. Not the greatest brother ever. No, he's the Jake of my nightmares. The nightmares that started on his sixteenth birthday.

I had always had nightmares as a child especially ones involving people in my family dying. When Jake turned sixteen, there were always about him getting in a wreck. I loved him more than anyone else and the thought of him dying scared me more than the most dangerous criminal. I remember waking up crying and shaking, imagining him twisted around a tree or crushed between the seat and the airbag. He would come in my room, wrap his arms around me and tell me everything was okay and that would never happen. But I did, and I was with him.

It happened two years after my nightmares started; his eighteenth birthday. We were celebrating his freedom of finally being an adult. We went to eat just like we did every Friday. That night we went to my favorite restaurant event though it was his birthday. It was almost like he knew what was going to happen. Everything was fine until we were driving home and had to stop at the stoplight. I had wanted to drive so bad that night because I had just got my license about a month earlier. I begged to drive but he said no. If I had things would have been different. When the light turned green, we started turning left but then that drunk ran the red light and hit Jake's side of the car head on. He was killed instantly. My arm was broken by the airbag and the drunk only had a concussion. My brother was so much better than me. He was smarter, nicer, friendlier, and more popular. Why did he have to die? Why couldn't that truck have hit me? Jake didn't deserve to die. But me, in some ways I deserve to die. I'm lazy, stupid, and disrespectful. Why? Why did that drunk kill my best friend?

My mom calls me from downstairs tearing me from my memories. "Kaelie are you sure you don't want to go? Jake would've wanted you there."

She finally broke me. My mom had been trying to convince me to go to the funeral since we planned it three days ago and she had finally found my weak point.

I put on my bright yellow, knee length dress. It was Jakes favorite outfit that I owned. I didn't care that it was funeral and you're supposed to wear black. He was my brother I know what he would want. That funeral wasn't what he wanted. He would have rather had us donate hid body to science or give his organs to someone else. Like I said he was a nice person. Nice people aren't supposed to die young.

I got into the car and put my headphones in my ear. I don't want to hear my parents talk about it. The funeral. I put on my playlist. Big mistake. These are the songs Jake picked out. Songs he taught me to play on the guitar and piano. Yeah, he was a musician, too. I hold back the tears threatening to leap from my eyes. Jake hated it when I cried. Hate it with a passion. He would do anything to make me stop. Anything and everything. As we pulled into the church parking lot I know I've made a mistake. I want to go home but there is no turning back now.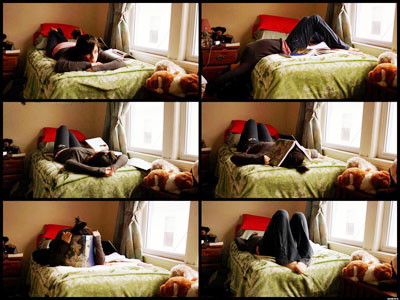 © Ana D., Worcester, MA