Intamicy
May 12, 2010
He stood there looking at the girl he had once loved, or maybe even loved still. She was a mere skeleton of her former self. She had lied to him. She had been lying to him. She had been lying to everyone. In fact, he had known she had been lying the whole time, and yet, he understood why. She had struggled with it in the past. He had seen it but had no idea, until he learned the truth. Even then it didn't make sense, but he still understood. He had detected signs of it again several weeks ago, but he didn't think it was possible, or maybe he tried not to recognize the signs because he knew that it was his fault. He was the one who caused her to act this way. He had hurt her, but she had also hurt him.


She caught him glancing at her out of the corner of her eye. "He knows," she thought. "He's always known." She knew she had hurt him. She had blamed him for…everything. She knew he was not to blame, but she just couldn't help it. She wanted him to hurt like he had hurt her. But she still loved him. Why did she still love him? How could she keep on loving a person who had broken her heart, who made her sick to her stomach every time he smiled at her? How could she love someone who had loved her so much? She had never felt loved by anyone. Maybe that's why she had been struggling, fighting. She wanted to be the prettiest…the skinniest. That's what it was all about, and then he came. He had loved her like no one else ever had. He understood her, and she understood him. He was always there for her whenever she needed someone to talk to. She trusted him, and she…she loved him. Then he was gone. One day it was perfect, and then the next day, it was over. She knew he would never understand why she had to do it, not even she fully knew why, but it had to be done. She looked at herself now. She had wasted herself, abused herself, until there was nothing left. Nothing. She sat there sickly and alone.


She turned to face him. He smiled at her, that warm loving smile he always gave her, and she faked a smile back, covering up the pain…again. He sensed the pain in her eyes, and it hurt him. She looked away wishing she had never looked over in the first place. Every day she wonders how she'll make it through the night.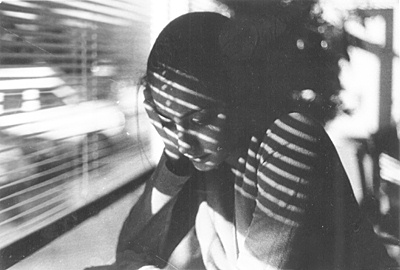 © John O., New City, NY