Red Boots and Ice Cubes
May 15, 2010
I'm sitting here against the splash-painted wall, chasing ice cubes in circles around my glass as I wait for you to get here. Not especially near to the stage, but not too close to the window, either, in case I look too eager for you to arrive. Somewhere in the middle. I'm not really eager anyway, I tell myself. Or perhaps I am, but the eagerness is so diluted with nerves that it's been transformed into anxiety. Somewhere in the middle, I suppose.
I don't know what possessed me to ask you to come here tonight. I don't usually do things like this. I'm fine talking with you in a group, but one-on-one on a date – just the two of us – I'm afraid I'm hopeless. We're not even really close friends yet. We've barely spoken before tonight, just sparing conversations about music or homework, movies or books or the weather. Little, trivial things.
Our first conversation had been something similar, if I remember it rightly. I think it had been English class, sometime in autumn. Had it been in October we had read the Bronte novel, or November? It had been during Bronte season, some time before Austen but after Dickinson and Poe. I had commented on the bright red boots you always wore that came to your knee, and you replied with a remark on my Smiths "vintage" t-shirt. From there the conversation turned to music, where we traded names of our favorite bands and songs, discussing the genius of Alex Turner's lyrics and which of The Hush Sound's lead singers brought a better sound to the band, Greta Salpeter or Bob Morris.
Over the next few weeks I found out a little more about you, in between chapters of Austen and Fitzgerald and Twain. During The Great Gatsby you told me that you were also from New York, albeit from Brooklyn, and you had moved to dreary Orlando only two years ago. Brooklyn was cool. Some of my favorite musicians, like Andrew VanWyngarden and K Ishibashi, were from Brooklyn. I, on the other hand, hail from boring Jacksonville. While Huckleberry Finn was exploring the Mississippi, you and I were too busy to be bothered, discussing our mutual hatred for Mark Twain's tedious writing and exploring our other literary fancies.
Yesterday was the end of Hawthorne, I think, when I asked you about tonight. There was a band playing downtown at one of the many local dives lining Orange Avenue, a secret getaway for the hipsters and music lovers. They weren't especially talented – no musical geniuses like Passion Pit or The Weepies, just a local band – but it was a free night out, rare to find in our lovely tourist trap of a city. You lit up nevertheless at my offer, infecting me with your residual enthusiasm.
I'm not sure yet if I like you. I'm not sure how I feel about you at all, quite frankly. I'd like to like you, and from the few conversations we've had I think I might like you, but after tonight unfolds we'll see. The more pressing question, the concern gnawing at my brain with worry right now, is whether you'll like me. What if you find me too uninteresting, or if I talk too much and ramble like I do sometimes when I'm nervous, or if worse yet I simply freeze and say nothing at all?
The clinking of ice cubes at the bottom of my empty glass brings me back to the reality of the dark venue. It's 9:30 and the band still hasn't begun playing yet, although I see the bassist setting up the microphone stands on the stage. Turning my head to the front half of the crowded dive, I check the door just in time to see you come inside. Looking around the dimly lit room, you spot me and wave as you make your way to the table. You're wearing those red boots again, and it must be drizzling outside as you're pulling the matching silk scarf from your hair and wrapping it back around your neck. You smile, and the curve of your red-painted lips distracts me from the eclectic combination of long sleeved black Ramones t-shirt and brightly colored miniskirt that on anyone else would look bizarre but on your body fits perfectly.
We smile and exchange hellos as you sit down across from me and tuck a loose strand charcoal hair behind your hair and I slide the moisture-soaked glass I had purchased nearly forty-five minutes ago to you.
"I got you a drink," I manage to get out, "but the ice melted."
You smile regardless, taking a quick sip. "Thanks. I would have been here sooner, but the traffic was awful."
"That's all right. The band hasn't started yet anyway."
I raise my empty glass and clink it against your filled one, the sweet chime inaudible against the background static noise of other expectant music lovers and old Le Tigre songs playing over the speakers to pacify them until the real show starts. A toast between two unlikely not-quite-yet-friends, one plain in jeans and old graffitied Chucks and the other dazzling with her eccentric cloths and red boots. A toast for a good night.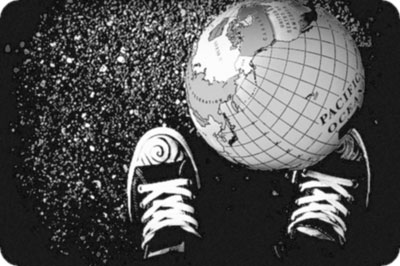 © Kailey E., Crownsville, MD