Prologue: Diary of an Amnesiac
July 18, 2010
Prologue: Diary of an Amnesiac

There are many times of the day I wonder who I am. No memories spring up against me as I try to remember my childhood back in lovely Colorado. Only in pictures have I seen the snow capped mountains or bears hunting for something to eat. I have never seen snow or what it feels like to be hit in the head by a snowball or the numb feeling your finger feels when you write your name in the fluffy, powder white snow.

Never have I experienced it and doing so seems like a goal I've set too high for myself. My home, the only one I am able to remember is now in Shoreline, Washington.

Not far from home is a beautiful ocean, with little white and gray pebbles marking the border line. It is there where I love to escape to and no one is around. Time goes by much quicker and my head tunes everything out except the pounding ocean and the crackle of stones beneath my feet as I pace back and forth. On a few occasions, I have seen a dolphin twisting in the air, its slick body shining in the afternoon sunlight.

Other people have something simpler to escape reality. People who love to read can easily block everyone and everything but a good book out of their mind. Within moments they're gone, engrossed in something else unexplainable.

In a seemingly small town like Shoreline, where it is supposedly the home of the best education in Washington, people ask me what it's like to be away from a big city. My response is simple really, that in a new life, it is better to start in a new place, where I'm not supposed to be modeled after my old self, someone who I know longer am. In truth, I actually believe this is what I want. The old self I used to be is gone now, which makes others learn to cherish what you have now because tomorrow, you may not have it anymore.

My new neighbors make me feel welcomed, not an outcast or an unasked for resident. Miss Gully is very kind and we often share sweet ice tea on her back porch, as we watch the ocean and she tells me of herself.

Miss Gully is a frail looking woman aging well past sixty. With her body, she has a new cleaned heart, filled with a good spirit. Often times she tells me that the people of Shoreline give her the strong heart. Miss Gully has watched many grown up, from infant to adulthood. Troublesome has been bestowed, like most of the townsfolk, upon her when someone close to her heart moves on to the next life.

It is people like Miss Gully that makes me want to continue forward, that my life has not come to an end even though my memories have. To see the world in their eyes must be a blessing, never dwelling on the negative but remembering, like they keep a special place in their heart for those who can no longer be there.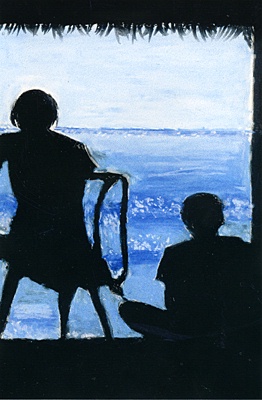 © Julia S., Haddon Heights , NJ