To Exist
September 28, 2010
The grass rolled in the wind, extending the lake for about a hundred yards. The gravel trail stood out, dividing green and gray waves. Even the trees at the edge of the meadow stood, nigh unmoving, a barrier. I could feel the sweat sliding down my body. The cold wind was amazingly refreshing when it came into contact with my exercised-warmed skin. I removed my tennis shoes and socks. I paused for a moment, relishing the feeling of grass and dirt under my toes. I opened my eyes then pulled off my shorts. The biting cold stabbed at my bare legs and arms. My swimsuit didn't provide much protection from the drizzling rain, but that was how I wanted it.
I whistled shrilly and my dog ran over. He sat next to me, his pink tongue lolling and dark eyes prominent in his pale-gold face. I smiled and knelt next to him, rubbing his neck and furry shoulders. I rose and turned to the wind tossed waters. I carefully made my way across the brief, yet painful, expanse of rocks. For a moment I stood on the edge. Then I was rushing into the wild torrent of water. I dove. The freezing liquid closed over my head and I rocketed just above the ground. I felt my momentum decreasing and I brought my head up. I surfaced and dragged a gasp of air into my lungs. I turned to the shore. He stood there, barely maintaining his still sit, excited tension visible in his stance. I called and he launched himself into the water and swam until he was right in front of me. I kissed his black nose and rubbed his ears.
He barked and one of those winsome puppy smiles lit up his face. It was amazing to not be in school. Not confined by the orderly, tedious boredom. There was no challenge, or any life there. There I was aware, completely and almost excruciatingly aware.
But I knew that I had responsibilities. It wasn't enough for me to just stop and exist. Relishing reality would get me nowhere. Reluctant, I left the numbing water and he followed. I pulled on my shorts, my socks and my shoes then unlocked my truck. The rush from feeling so alive was fading to a level that didn't bring tears to my eyes and I was feeling calmer. Structure really wasn't so terrible, as long as could find a way to feel alive.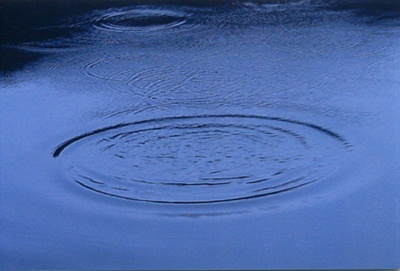 © Alyssa J., Gibsonia, PA