Breast Cancer Awareness
October 18, 2010
We were sitting in an office building, both staring at the white walls in front of us, not saying a word. It was almost midnight on December 31, and we were spending our New Year's here, in these red uncomfortable chairs, waiting for the man that would diagnose us with a change in the rest of our lives.
"Sadie," he said to me.
"Yes?" I replied.
"You don't know if this one will know any better…" I shook my head, knowing he didn't have to finish his sentence.
"I'm hoping he will." Michael sighed and shook his head, staring once again at the cream color that blocked us from one very powerful man in our lives right now. We had both been up all night, and you could see it in our faces. His eyes were squinted and had a bit of crust around them, and he looked like he hadn't showered in days. I, on the other hand, had showered twice that morning, because I forgot about the first time (the sickness does that to you, especially when you're in your thirties like me). And I had put makeup on and combed my hair out. I made a note to tell him that this would be considered an example of irony, considering I was the sick one and he was the one that looked sick.
"Mrs. Sanders," a woman said to us, looking all too perky for this late time at night. It was strange that this man was even available right now; because of New Year's I'd thought he would have been out celebrating or with his family. But he told me he had no family and no one to celebrate with so he would make my appointment. That was about…oh, 2 days ago?
"Yes?" I replied, not knowing she wanted me to go to back to his office. The blonde lady motioned with her hand for me to follow her. I did so, and Michael followed me into a large, dark office. So dark, in fact, that at first I didn't notice it had a window; the curtains were closed and they were the color of blood. I shivered thinking maybe it was blood on those curtains, the blood of previous patients in my condition, and I marveled at the thought that I would be next.
That day I was diagnosed with breast cancer. The doctor said that out of the 207,090 cases of breast cancer so far in 2010, 39,840 women died of it. My husband, Michael, started crying when he heard Dr. Morton, and I hugged him and tried to comfort him, but nothing I did seemed to work. He just kept sobbing in ragged breaths. I was going to hear a lot of that from him from now on, I decided.
"Mrs. Sanders, I'm afraid we didn't catch your particular case quickly enough…" Dr. Morton said, as calm as a clam. "I don't believe there is anything left that we can do… I'm so sorry."
Michael looked up from his hands, where his head had previously been resting, and his eyes set on Dr. Morton.
"How can you say that?" Michael said, his voice staggering a bit at first but growing stronger with every word. "How can you sit here and tell us that there isn't anything else you can do? You run a few tests, push a few papers, and now you tell us there's nothing more you can do?" This was starting to be a yell, and I was about to say something but he went on before I could. "Sadie is a good woman; she is kind, caring, and she has the most beautiful smile you will ever see in the world. I don't know how you can sleep at night! How do you expect us to just sit by and wait?"
"Mrs. Sanders," Dr. Morton continued, as if Michael hadn't said a word. "I am so sorry to have to deliver this unfair message to you. The best we can do right now is give you some pain pills and wait it out…"
I nodded my head in understanding, keeping my gaze on the floor and my arm around Michael's shoulders to steady him. The amount of stress he had been in lately made him empty all of his anger out on this one, poor lonely man who was just the messenger, so to speak.
We left Dr. Morton's office in silence, rode home in silence, and, you guessed it, ate dinner in silence. After watching some TV and trying to make petty conversation-to no avail, I might add-I went up for bed. But before I could get up from the couch he caught my wrists and kissed me. It was long and filled with heartache for his poor sick wife. I pushed away from him, the realization of my disease finally catching up with me, and stomped up the stairs. Getting ready for bed, I decided I didn't want to have Michael be angry with me in my condition. So I went back downstairs but he was already asleep on the couch, as if taking up an old tradition that used to happen so often in the earlier days of our marriage. I settled for kissing him goodnight on the forehead and went back to bed.
I remembered the way he had yelled at Dr. Morton, yelled for me and my survival. He yelled because he wanted me to live, because he wanted me to kiss him hello when he came home from work in the evening, because he wanted to be there for the birth of our sixth child. Michael yelled for our life.
I went through a terrible, painful 2 months after that. I was always bleeding and was always very sore in areas I cannot describe. There came a time when I actually wished for death, wished it would come and whisk me away to the heaven that lies above. But no such luck happened in those 2 months. But about a week ago, on Valentine's day-our anniversary-Michael took me out to dinner. We went to a local restaurant, Delmar Pizza, but something tragic happened.
That night I became one of the 39,840 women, making it 39,841 victims. That night I left my husband and moved to a more beautiful place above the sky.
That night I died of breast cancer.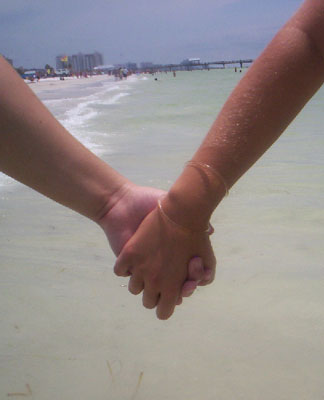 © Belinda H., Palm Harbor, FL