Palm Springs, CA
October 25, 2010
The weatherman was depressed. Not depressed in the shallow sense of the word; no, he had the meds to prove it. He was depressed in the sense of that gnawing sensation, and when he tried to verbalize it all he could see was that, the gnawing, like a little symbolic beaver chewing away at his soul. Even the metaphor was cheesy, goddamnit.

Take me seriously.

This was all he wanted: seriousness. When he went to weatherperson school with all the other would be weathermen and weatherwomen, they were taught to be taken so. You are needed, they were told by their teachers. People shape their lives around you. You are leaders. There was a huge handmade banner above the meteorologists lab at the station: Weather the weather. It was ironic and sickly cute, like those little acid-tasting heart-shaped candies on Valentines Day that you look at if only for the messages. Weather the weather.

Gag me.

But this was the sign he saw on December 13th, just as he did every day, right after he'd gone on and done his shtick: 72 degrees, today, tomorrow, for eternity, amen, and then it would cut to a commercial for erectile dysfunction-curing pills and the like. Weather the weather. But there was nothing to weather, he realized, whether he wanted it or not. The weatherman was 41, and depressed, and he had nothing to weather, and never had. It was gruesome.

Christ.

So he emerged from the station at eleven, as per usual— because after you've predicted the inevitable, you have the whole day ahead of you— right into the weather he'd forecasted, and took off the jacket and clip-on tie he wore for his 37-second occupation. They do not teach you to tie a tie at weatherperson school. The weatherman stared at it until his eyes could no longer see it and the tie became a blur of pastel and fabric, and he could hear and feel and smell the little beaver sawing away at his innards, and it hurt like hell. This was when he knew, knew the way Leonardo did or that other jerk with his Copernican revolution, knew the way some little Harvard snot knew that a place for Americans to unload their virtual lives was exactly what the world needed. He knew, and so he got out a map and drove two miles south, and there it was, smack between a Planned Parenthood and Wo-Hop To Go.

They need to remodel bus stations.

He didn't have a lot of money in his wallet, because really, weathermen don't have much to buy, just some milk and ham and butternut squash soup, if they're feeling really ambitious. But he had a twenty and two fives, and that was enough to get him on a Greyhound.

It's funny how they're named 'Greyhound'.

Greyhound dogs are pretty, he thought. And this thing that I'm on is not. But it was moving, below and beyond the sunshine, the clarity, the high degree, and into the dark, and that was enough. One hour, two, three hours, four, the beaver is biting, more more more. Weathermen were never cheerleaders at their high schools. Ask any of them. The last stop, the lurch of the bus.

Here I am.

He took a step off, and there it was. The crisp. The cold. The underachieving lowness. The tiny degree. He began to walk, nowhere, everywhere, and it wasn't long before he saw it, dandruff on the balding scalp of the universe—but this was a beautiful metaphor.

Snow.

He remembered that quote he'd heard in his college English class, a lecture most people slept through but one his soul had been awake for: We are learning to make fire. It was oddly poetic, without a maudlin pretense to it, and he wrote it down on an index card and then lost it but remembered the phrase: We are learning to play with fire. When he saw the snow this is what he thought of. He wasn't needed, and he wasn't leading, and God be damned if people really cared about what he was going to predict. They already knew. Everybody knew. This, though, this— there was chance, there was possibility. There was weather to weather. There was everything to weather. The snow was grim and icy and serious, so serious that when he picked it up and felt it in his hands, even that beaver stopped biting, just so he could taste the frost.

We are learning to play with fire.

He stayed in the cold for as long as his lungs could take it, and then he walked back to the station and went home, home into the warm and the sun and the higher degree, the degree they don't give you at weatherperson school. He made it back right on time for work, and he looked at the charts, the charts that didn't show possibility but perpetuity, an infinity of sunlight and 70, for today, tomorrow, for eternity, and he walked on camera:

"There is going to be a thunderstorm today. I quit."

Amen.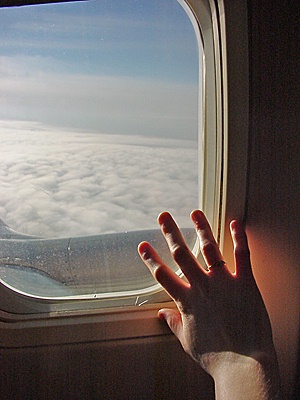 © Greg K., New Lenox, IL