Feather Words
November 9, 2010
"Hey, there's that one girl," my friend Paul Greever nudges me. He's a Class-A jerk. Sometimes I wonder why I put up with him. I suppose it's because he's one of "those guys." The ones that excuses always get made for. "Oh, he's really sweet once you get to know him." A fantasized myth that keeps people on the 'egotistical' scale and not quite on the 'a-hole' scale. Sometimes he's alright and it's for that and that reason only that he's my friend.

"Just leave her alone, Greever," I sigh, eyes following the subject of our conversation. She's been around since 8th grade. I remember having an English class with her. Always wearing a sweatshirt, no matter what the weather. Her eyes briefly flick up and I don't like what I see. I can't stand seeing a million years wrapped into an 18-year-old body.

I look down and she continues to her seat near the back of the room.

Zoey. That's her name. God forbid I ever have to remember her last name but her first is Zoey.

"Hey!" Greever calls loudly as the bell rings and the teacher is somewhere off running errands instead of this worthless history class. "You!"

Zoey glances over and raises her eyebrows.

"Why don't you ever talk?"

She shrugs. "Don't have much to say," she answers. Her voice is soft. Her words land on her desk like bits of cloud; I want to pick them up and hold them for ages—like if I pick them apart somehow I'll find what she means by that, I'll find ten years of knowledge within the five words.

"Everybody does."

I see a light behind her eyes and she looks forward with a slight grin.

I've never seen her smile before.

"Stupid!" Greever laughs loudly and half the class gives him a courtesy giggle.

How did I meet this ding bat again? It's as if his vocabulary consists of only degradations, insults and words pertaining to dirty jokes. High-class boys we have now a days.

***

"Zoey Tyler!" Greever announces loudly the next day as we get to class.

Tyler. That's her last name. Zoey Tyler.

She's walking past him and he grabs her arm of her jacket. I see her stiffen instantly, then twist out of her sweatshirt and kick him in the shin with enough force to make me hurt. Deep lines cross over her arms and some red ones are visible, too. Her face turns red and she grabs her secret-keeper back, shrugs it on.

"Emo!" Greever laughs through his gasps of pain. "Freakin' emo kid!"

As the teacher comes in, Greever raises his hand. "Hey, Mr. H! I got a joke."

"Make it quick, Greever."

"I wish my lawn was emo so it would cut itself!" He shouts. The class bursts out laughing. I look over with the biggest grin on my face to see Zoey's eyes sweeping the room, full of sorrow. I feel the grin drop as her eyes cross me. I feel so exposed, as if she could see through everything. I look away quickly.

But a gaze like that can't be forgotten.

***

Greever comes sauntering into class with a huge smile on his face. He nods his head at me to follow him so I get up and do so. "Hey, Zoey. Sorry about yesterday," he says. She looks up at us with her dark brown eyes and I'm inclined to look away.

"It's okay," she graces me with her gentle words again. "I've heard it before."

"Well, I want to make it up to you. I got you this," he holds out a packet of razor blades. "Don't let the teachers see," he bursts out laughing. I can't stop the slight upward twist of my lip.

Zoey stares at the packet for a long moment before taking them and setting them in the corner of her desk without a word. She looks up again and the light from the window bounces across her face that makes her eyes look like twin pools of brown gold.

They remind me of a little kid. And an old soul.

"You can leave now," she says.

I realize I still have the half-smile stuck on my lips. I drop it and walk back to my seat. Who am I to stand up for her? If she wants to can't she do it herself? Why don't any of her friends do it?

I spend the entire hour thinking up a validation for my standing by. It's completely alright in my mind.

***

As I walk down the stairs at the end of the day, someone bumps me and my books and papers go flying. There's several giggles and nobody stops to help. I stoop down and start gathering the numerous history, math and science notes when a familiar hand offers me a stack of them. I look up to see Zoey. It sends a shockwave through my body and I can feel my face grow warm.

Her eyebrows arch and she gives the papers a little shake. "You want them?"

"Oh. Oh, yeah! Thanks, Zoey."

She stands as I stack the last few on top and grab my two books. She starts walking away but somehow my voice jumps out of my throat. "Hey, I know you probably want me to fall off a cliff--"

She turns around and my sentence stops. "Why would I ever want that for anyone?" she asks simply. "Isn't there enough suffering going on in the world?"

"But what we did earlier..."

Her eyes land on the ground but then flick up, full of things I won't ever understand. "Thanks for remembering my name," her feather words flutter to the ground and she leaves.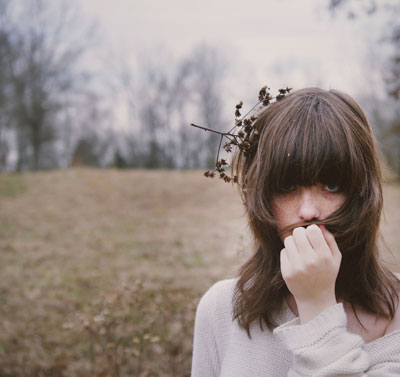 © Alex D., Russellville, AR