After It's All Said and Done
November 22, 2010
Frustrated, I stopped and stood on my toes in an attempt to peer over the sea of people. I was already wishing that I hadn't worn my jeans and t- shirt. Seeing all these people dressed up was making me feel really self- conscious. I had picked this outfit, though, because it was how I thought my dad would want to see me when he got discharged.

A year and a half has passed since I have last seen him, and these minutes that were dragging on made it feel like it was going on three years.

Dad's a Leatherneck. He shipped out last spring and, ever since then I've been marking the days off on my calendar. Since he has been fighting in Afghanistan, the only thing I ever got was a monthly phone call, if that. Sometimes he couldn't call, and I was left waiting in agony for the next month's call to roll around to make sure he was all right.
I can still remember when he left. I had cried like a rain storm the night before. When he was about to go, he hugged me and whispered in my ear, "Don't cry, I'll be back. Don't you worry about me for a minute. You just worry about finding a boy I can hassle when I get back. You hear?"
I had numbly nodded yes, too scared about letting him go to think about his words. Thinking back on it, I'm pretty sure that's what every dad told his little girl, that they'd be coming back

I suddenly heard a shout and marching feet. There was a voice shouting out the beat, and I felt my heart flutter. I began to elbow my way through the crowd until I could see the soldiers. My eyes searched the ranks eagerly, looking for the face that had been out of my sight for way too long.

Suddenly it hit me, and I realized that I was closer to my dad than I had been in a year and a half, and I had no idea what to say when I saw him.

I then heard my grandma's voice in my head saying the same thing she had said years ago before she passed, '"Being yourself is one of the best things a person can be."'

It felt so weird not knowing what to say. He had missed my thirteenth and fourteenth birthdays; he hadn't been able to teach me all the stuff fathers teach their daughters when they turn into teenagers. But if I needed to, I would ramble about nothing, because he was my dad, and I was not going to let a year and a half leave us feeling awkward.

Somebody walked up onto the make- shift platform that had been placed in the meeting hall, and started talking. I didn't pay attention though; I was still searching the ranks of camouflage.


Suddenly a shout from the lines of soldiers broke my concentration. I heard, "Company 852, you are now dismissed!

And when I felt people streaming past me to try and find their loved ones, I felt myself being pulled along with them.

I turned my head every which way trying to find him.

Then I saw him standing there by himself, his pack slung over his shoulder. His face seemed to have hardened and changed in a way that made him look older and wiser. He possessed a tired look about him, and I suddenly knew that he really needed someone. Knowing I was the only someone he had, I ran to him.

My mom was gone; she died right after having me. I always knew that it haunted dad, but he'd never seemed this vulnerable before. Oh, it wasn't something a stranger would be able to point out, but it was something a daughter of a survivor could. The way his eyes looked, the way he held himself, it made me want to cry. And I did.

I ran to him, and when he saw me, he ran too, until we met in the middle. He picked me up and twirled me around, and then we were back on the ground, both of us crying.

"Never leave me like that again," I whispered in his ear, hugging him as tight as I possibly could, the words coming on their own.

"I wouldn't dream of it, honey," he whispered back, his husky voice sounding reassuring in my ear.

I felt like I would never be able to let go of him. All around me people were crying and hugging and laughing with happiness.

Dad gently moved my arms off from around his neck, looked me in the eyes and asked, "So, you find a boy I can hassle yet?"

I grinned, and hugged him again.

"No, not yet," I said into his jacket, muffling my words. I let go and looked at him, and said seriously, "I thought I might wait for your approval before doing anything drastic."

Dad raised his eyebrows in question, and then broke out laughing, and I joined in. We were on our way back to the old times, where we would be able to sleep peacefully, knowing that we had each other safely with in our reach.




My dad was back, and for me, it was finally all said and done.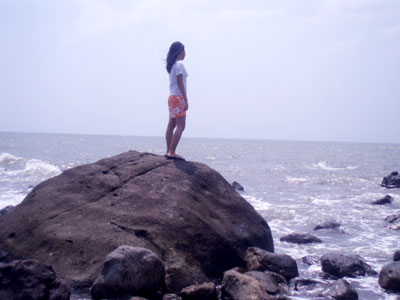 © Grace L., Bacolod City, Philippines