Silence In The Lamplight
November 23, 2010
I couldn't believe it. I looked upon her and saw the truth in her being. It spoke with a cold voice, commanding and condemning. Its silence screamed at me with fury.

Not a single word uttered. Not a breath whispered between pale lips. Nor the flutter of eyelids, twitching back and forth spasmodically, saying Do Not Disturb The Sleeping, raging in mysterious dreams and panicked sweat. Nothing moved. Nothing stirred.

Megan Paige was quite dead.

Her blood ran across my hands and I drew them back reflexively. I looked at them in the sickly yellow lamplight, the shards of glass embedded in them still drawing my own free-flowing blood. I pulled them out, one at a time, until they were all gone. There were probably a dozen of them, opening a dozen wounds in my palms. The blood kept coming.

I stared dumbly at Megan. By my dizzy eyes, it had looked like she was run through with rebar. Two protruded from her chest. One stuck from the center of her throat. It was all very unappealing, how red-stained her dress was. White was definitely not a color she should have worn to the dance. It only intensified the blossom of crimson that was slowly creeping down her arms and onto the dark leather seats.

*Goddammit,* I thought. *This car is ruined.*

And it was. The windshield was nowhere near intact. It was all over the place. In fact, it looked as if all of the windows in the car were either blown away or at the very least smashed into a latticework of intricate cracks far exceeding the delicacy of a spider's web. From where I sat in the driver's seat, I could see in the crooked rear-view mirror that the back seats were very much torn up. What a waste.

And then the tree! I screamed at the tree, the monstrous thing. It looked perfectly fine in the moonlight! No matter the car that had tried to engulf it, nothing could run down a mighty thing like the old tree! How dare it stand there, mocking, in its good health, the abusers that had carelessly slammed into it with such a force of metal, cloth, and flesh!

I leaned forward, retching onto the steering wheel with its airbag, pathetically deflated in defeat.

*How could this have happened?*

I recalled the events of the night. It was the dance we had gone too--Megan and I. Some dumb party that a friend of a friend had hosted. It was stupid by even the poorest standards. Some guys, few girls; a cooler or two of bottled beer; some lame music. I mean, don't get me wrong, after a few beers a guy tends to start relaxing a little. The girls had fun. Megan included.

I sat back up and looked at her. She gazed out the windshield with those fine, glassy big eyes of hers. They were so beautiful. They spoke of a warm, intelligent person. Now that I thought about it, I remembered a conversation I had had with her a week ago. We had been sitting in a mall, sharing warm, salty pretzels as shoppers passed by, talking about the future. Well, her future, now that I thought about it. She was thinking about college. She had been accepted by three universities. It being senior year in high school for both of us, she was delighted. She could have picked whichever one she wanted.

I screamed again, this time in terror. She was dead! SHE WAS F***ING DEAD! The hopes of the future--some useless construction on the side of the road--had killed her! They had destroyed her own future!

Coughing again, I reached to the side, grasping for air in delirium. My hands hit something cold and smooth, seemingly perfect in the horrendous mess the car was in. It took a minute for my eyes to focus on the odd object until I realized that it wasn't so unfamiliar. It was an unopened beer, somehow still intact, laying on the center console between Megan and I. It was taunting. I just laughed. How ironic was that? Such a common thing! Such a common thing in the world! I had only had about three of them before we left. The damn things cost three bucks, but now, I realized, they had also cost Megan her life.

I picked up the bottle, smearing my blood across the glass; it was still seeping out of my hands. I forced the lid off and took a long drink. It tasted too good.

Black spots danced before my eyes and I dropped he glass in my lap, spilling the precious drink, spoiling my clothes. But when I looked down I saw my clothes had been ruined for a long time. Another piece of rebar had gone through my own chest. Blood had already stained my clothes, gluing them to my body. I laughed once more, cackling while the blood spat from my throat and choked my lungs. It turned into a painful racket of retching, and it stayed that way for a long time.

After it passed, the pain stayed behind. It was present now in every movement, in every thought. How could it end like this? It was just a few beers... A little fun with some friends... And now this is what was left.

I sighed and closed my eyes. The street light off to the side flickered in anxiety. It knew what was coming.

Not a single word was uttered. Not a breath passed through lips: not anymore. There was only wind in the trees. Only silence in the lamplight.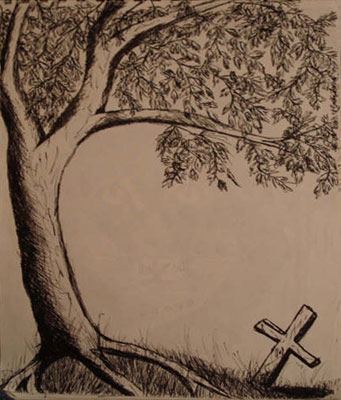 © Courtney K., Bethel Park, PA