The Rainfall
November 24, 2010
My knees sank into the ground half against my will. Kneeling was against everything I believed in, but she deserved it. She did.

I leaned forward, slender piano fingers tracing the twelve letters carved in stone. The twelve letters that made me want to beat the ground and scream.
Raine Fell
R.I.P

That's all she got. Not "beloved sister" or "kind soul". Just R.I.P. I couldn't bear anything else.

As my hand fell to the dirt, something sharp grated against my wrist. I glanced down, and just as quickly averted my gaze. No. They did not put that on her grave.

Please no.

I bent down and brushed my fingers across the bumpy surface of a pale blue bracelet, shaped like a rain drop. My eyes fell shut and I lost myself in the memory.



She stood there, hand in mine, beaming.

"It's my birthday, Keene! I'm six now—six! I'm becoming a big girl." She announced this last statement with pride.

I leaned forward and tickled her once under the arm before she skipped away, wagging her tongue at me. "Don't you give me sass, little Raine Fell."

Raine giggled. "My name's so weird. Raine—Fell. Like 'the rain fell.'"

"Yep," I murmured. "You're our little rainfall." She was what kept us alive, she was what kept us thriving. She was our rainfall.

"So…." Raine ducked her head. "Did ya get me something for my birthday?"

My face lit up. I had gotten the perfect present. Absolutely perfect.

"Of course, sweetie." I dug around in my pocket and produced to identical bracelets, both pale blue steel in the shape of a rain drop. She took one, eyes wide. "One for you, one for me." I slipped mine on and held my forearm against hers. "See?"

Raine gazed down at our twin bracelets, enthralled. "Does this mean we'll always be together?" she asked. I could see the hope in those brilliant blue eyes.




I lay my head against the rough marker, bracelet cupped against my chest as one lone drop fell from the sky to splinter upon the grass. "Forever," I whispered.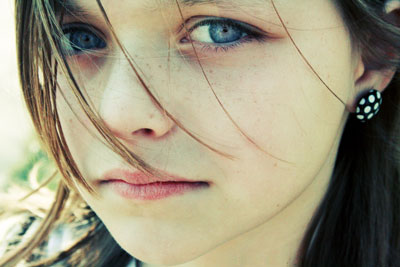 © Felicia R., Arlington Heights, IL