Siren's Song
January 5, 2011
I breathe in the sharp, acrid scent of bleach. The pristine white tiles of the bathroom tip and shake unevenly as the floor buckles. My head spins. I close my eyes and inhale deeply once, twice. I keep my eyes squeezed shut and feel the walls bending in toward me, closing tighter, tighter, tighter. My eyelids fly open.

The bathroom is still. Clean. Silent.

The scent of bleach tears its claws into my pounding head and my breath comes in uneven gasps. An image of those beautiful white tiles turning red swims before my eyes. My whole body tingles and I feel dizzy. I lean against the wall for support.

The red spreads from under my feet, a little pool, small and growing, across the white. It's beautiful. Red. White. Red. White. I try not to think. I have to shut my eyes again, as the room begins to quiver once more. When I open them, the floor is tipping up to meet me.

Sweet, sweet tang of blood meets my cracked lips, and I realize I have fallen. I lay face down on the bathroom floor, the puddle still growing, slowly but surely. Blood pumps from my heart as it beats once, twice, three times…

I spit a bit of blood from my mouth and I choke on the bleach smell.

It occurs to me now that this may be what it is to die. My stomach lurches and I curl up tight, blood still pooling under me. My head screams with pain. I let it. The roof is falling toward me faster and faster, swirling with the walls and the sharp, slicing brightness of the light. I close my eyes and count four heartbeats. When I open them, the roof is where it should be.

I start to shake, uncontrollable shaking that reminds me how cold it is on the floor of the bathroom, how terrorizing the pain is. This time I do not spit off the blood that coats my lips and the side of my face. I lie in it and stare at the wall before me.

Somewhere, eons away, across the bathroom, the piece of mirror calls to me. Its sharp edge and its seductively murderous shine scream a siren's song at my broken body. I manage to look toward it. My blood coats it, too, and I smile a crooked smile. The room tilts again, and a ragged cough shakes my whole body. I cough up a bit of blood.

It's everywhere, the blood. Brilliant vermillion coats the white tile, and the bleach suffocates me slowly. The red is dripping, from my arms, from my legs, from my stomach, from my chest. The mirror sings its disastrous, beautiful song to me. It sings of cutting into me, of doing my bidding, of tearing my skin open and painting the floor in my blood.

I sing along, in my head, and world shatters before my eyes.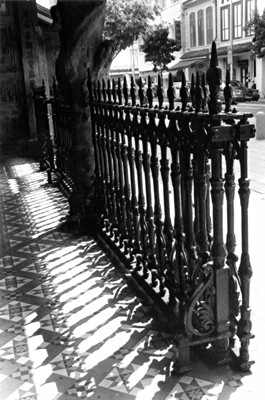 © Gretchen L., Edina, MN