He Was Never Usually A Quitter
March 11, 2011
He was never usually a quitter. He was never usually an "I can't" kind of guy. He was never one to say, "I give up," even after hearing, "strike three, you're out!" over a thousand times, even when the pretty girl up the street broke his heart in the dusk of summer, even when the little voice inside his head screamed, "you can't do this!" over and over until his head almost exploded.

But the feeling of explosion was coming from his entire body, for it ached and yearned for oxygen. He had never wanted anything this badly in his entire life, even a starting spot on the All-Star baseball team. Thrashing and kicking, arms and legs numb with weakness, his throat burned as if it had been lit afire. He could hear the water splashing around him, the song of his fate. His hands were reaching like a newborn child, reaching for his mother's grasp, reaching for a break through the surface, reaching for his life.

"Don't give up!" shouted the little voice inside his head, "don't you dare quit!"

But it was useless. He could feel his heart slowly fading, each beat clawing at the base of his throat, pleading for fresh air.

His brain was a whirlwind, his thoughts and memories blending together. He kept replaying each moment inside of his head: Nirvana blaring on the radio, the bottle in his hand, the bright yellow lines of the road tripling with each sip, the blinding headlights of the oncoming car heading straight towards him, the swerve of the wheel, and... water. It engulfed him, wrapped around his arms and neck like a straight jacket, wrapped its dark hands around his ankles with an unbreakable grasp. It bit his eyes and tore straight through his throat, and flooded his lungs. Now, it was battling for his heart.

He had so much to say, so many things to accomplish, like winning the science fair next weekend. He wanted so badly to tell his mother he loved her, how sorry he was for being just like dad. He wanted to be the man that never left, the man that took care of his mother's broken heart. He wanted to graduate, go to college, see his mother's face light up with pride. But how? It was all slipping right off the edge of his fingertips.

He could feel his body start to relax, the numbness taking him away into an unknown darkness. Just as he closed his eyes, he heard a faint twinkling noise, sounding a million miles away.

"So, this is it", he told himself, "this is what it feels like to die. God sticks you in an elevator on your way up to heaven, and even includes some lovely background music. At least this means I'm not going to hell.."

Then, he saw it. He saw the brilliant bright lights above him, twinkling like the stars on a cool summer's night. He heard the voices, echoing in a distant land, coming closer and closer with each shout. He was almost there, he could feel it.

As the flashing lights started to fade with blackness and the edges of reality started to slip into the unknown, he accepted his fate. He let the blackened water take him by the hands, and for the first time in his life, he finally said the two words he never thought he'd say...
"I quit".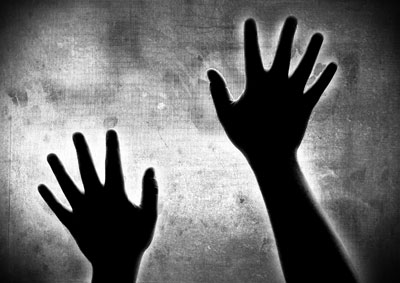 © Andrew F., Lake In The Hills, IL