Skipping Rainbows
March 21, 2011
This morning I found him bent over the piano with a cigarette smoldering at the corner of his mouth. He was playing lightly at the keys, and I could see that he was missing my mother. She had been in San Francisco for a week, and I was beginning to wonder if Daddy even noticed that I was not with her. He was sad, and lonely, so I crawled onto his lap and listened to the music. I tried to smooth the lines, and noticed tiny holes and wrinkles in the tension of his face, some of them with little hairs poking out. His was not at all like the perfect face he wore in the magazines full of angry women in bathing suits.

I had an idea. I jumped off of his lap and went upstairs to my bedroom where I opened the glass cupboard of vintage dolls resembling actors from classic movies, my mind racing with memories. I first went to Rhett Butler, for he was most like Daddy. I picked out Judy Garland dressed like Dorothy from the Wizard of Oz, and Lana Turner. I held them tightly as I ran downstairs, abandoning all airs of maturity. He remained at the piano, faintly remembering as I pushed Rhett Butler into his hands. It was Clark Gable in full splendor, his signature black mustache hovering over a boyish half-smile accented with a white hat and suit from Gone with the Wind. Lana Turner was as glamorous and attractive as she could be in her white turban and bathing suit from A Postman Always Rings Twice. However, the girl-next-door Judy Garland was always Rhett Butler's most admired when I had a say.

Daddy and I played at the piano, under the piano, and across the living room floor long past dinner-time. We were so caught in our traditions that we waited until it was dark to sneak outside to watch the moths flutter around the porch light. The few nights that he was home, it was customary for Daddy to tell me all about the character he was playing in the movie he was working on. I found it odd that tonight the ting ting of moth's wings against the bulb had brought him back to his moodiness. He sighed as one of the moths dropped suddenly from the light and drifted to the porch like a crisp leaf.

The evening was quiet until he absently stared down at the Dorothy I held in my lap. The Wizard of Oz was one of our favorites, and together we had always admired Judy Garland, and all of the shimmering movie stars of the 1930's and 1940's. I took this opportune moment to unbury a bitter flavor of disappointment and remind him that he had promised to take me to the Wizard of Oz Museum for my 10th birthday, but had canceled last minute to reshoot some scenes at the studio. I expected him to soothe this wound with his usual salve of regret, but he paused before looking at me significantly. I knew that to go to the Wizard of Oz Museum in Kansas at 9:00 at night while my mother was still away would take three clicks of a magical pair of slippers, or to be swept away by a timely twister. Even my Daddy could not dream our way along a yellow-brick road to a spontaneous moment of freedom.

He stood up and I followed in amazement as Daddy pulled the hibiscus-print runner from our dining room table, folding and tying it around tousled strands of hair. He messily put mine in pigtails and fitted me with his oversized glasses. To finish the outfit, he slid on a pair of dark glasses and plunked the straw hat my mother wore to the Caribbean over the bandana. We were in disguise, and he was going to take me along a different kind of yellow brick road, and it would be dotted with the handprints of Judy Garland, Clark Gable, Lana Turner, and all the actors I was born too late to meet. We would be together, tourists in the shadows, secretly evading the lights.

The most delicate piece of our operation would be to leave the grounds of our house unnoticed. Hand in hand, we scurried around the range of the sensor lights, weaving across the lawn and dramatically slapping our backs against the brick perimeter of the estate. He peered over the wall before hoisting me over. The back of my leg scraped down the brick, leaving my leg reddened and flaky, but tonight, I didn't care. Once we hit the street, we jay-walked across the empty highway, reminding each other to walk like we were tourists. I bit my lower lip to suppress the squeal of bliss that had surfaced in my chest. Daddy squeezed my hand and we cut across a parkway to catch a taxi. I had never been in one before, and strongly fought the urge to irrelevantly shout, "Follow that car!"

The taxi took us down the flashing, roaring, rippling Hollywood Boulevard to Highland Avenue where we would find the tiny hands of Judy Garland splayed in the sidewalk since 1939. I grabbed Daddy's hand and tumbled out of the taxi and into a crowd. They were eager men wearing white t-shirts and jeans, and had circled a woman with her hand spread over her face and her collar pulled up high. The sharp snaps and clicks sounded loudly in my ears when I lost Daddy's hand and was pulled along with the crazed Paparazzi. I shrieked and lifted my gaze straight above the crowd as the patch of reddened L.A. sky became smaller. Just as panic had fully surfaced in my chest, my comically disguised father crouched behind the cameramen to pull me sharply from the entanglement. He swung me deftly over his shoulder and delved around the corner just as a man with a camera shouted, "Hey, I think that might be him…with his family!"

At this, his breath quickened and my mother's straw hat flew from his head like an escape pod abandoning a wrecking ship. He tore at the flowered table-runner, leaving it motionless in the street as he dove into a crowd of tourists clinging to their children. He dropped me hastily to the pavement and inconspicuously untied my pigtails as we casually walked hand-in hand among the tourists. I relaxed as a shimmer of amusement passed over Daddy's face. He straightened his sunglasses and we boarded a trolley, carting away from the puzzled men and the straps from their cameras flapping stupidly in the breeze.

The touring car took us to a quiet street and a little park with bright paper lamps decorating the silent sweeps of foliage-laced paths. He took my hand, and without thinking we were skipping. I shut my eyes a moment and pictured Dorothy's glittering red heels nimbly springing in step with the willowy scarecrow. I peered up at daddy's straight, wild strands of dirty-blonde hair dancing like straw in the cool October breeze. His smile was boyish and unrestrained. I breathed in deeply the magic of our moment before he whipped me around a bush and set me on the bench where I stood, nearly eye-to eye with my father. From behind his back he pulled a leafy bouquet that he had snatched secretly, presenting it kindly with a bow. "For you, Miss Garland." I giggled, quickly falling into character with a coy smile.

"But Mr. Gable, what is my old beau, Mr. Rooney to think?" My disheveled admirer recomposed himself by raising an eyebrow to respond:

"Frankly, my dear…I don't give a damn."

Giggling, I took the branches and gave him a slight kiss at the cheek. We continued down the twisting path of the park in blissful silence as he held my hand tightly in his. This was my father. The paparazzi, studio, my mother, or even time could never take him from me again. I would wake up and realize that I had lived with this wild, dancing scarecrow all along, and that he was not going to fade with my dreams.

"Hungry?" Daddy questioned as we surfaced a quiet street full of tiny restaurants and boutiques.


I followed his line of sight to a sign of gentle pastels sweeping along the words Over the Rainbow Bakery and Custard Shoppe.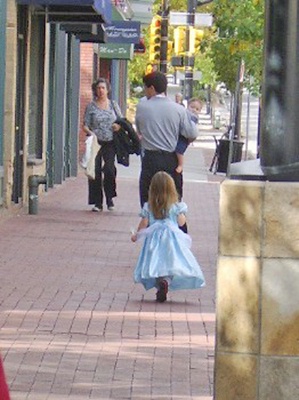 © Kristen T., Tulsa, OK