Perfect
April 27, 2011
As the perfect daughter, student, granddaughter, I make everything right. I'm in all AP and Honors classes with straight A's every semester. That's how I roll. My mother makes my lunch every day, and she expects me to look good on the outside .I wear designer clothes, and my perfectly straight, silky, black hair always ties up into a bun. I never got a ticket, detention, or lunch detention. I am well, perfect.

Everything was perfect until I was diagnosed with a cyst in my pelvis. The sharp pain occurs every time I move. Sometimes I want to collapse and cry. People say that the pain is worse than a kidney stone. I say the pain is Hell. Oops, I take that back. I am not supposed to cuss otherwise my reading privileges will be taken away. Don't tell anyone.

My mother takes me to a High-Tech center to get a pelvic ultrasound. When the nurse escorts us into the room, I lay down on the chair. We all relax.

"I am Nurse Maggie. How long have you experienced this cyst?" She asked me.

"For a month now." I replied. She takes notes.

"Do you use alcohol or drugs?" My mother looked at me.

"No, ma'am." Nurse Maggie smiled.

"You are very polite, Amy." She commented. I thanked her, and she continued to comment on how beautiful I looked and how perfect I was.

"Thank you. You don't have to say anything more." We all laughed. My mother usually received this feedback when we were everywhere.

Nurse cleared her throat. "Have you been sexually active lately?" I looked at her for a moment.

"Yes, yes I have been." I stated in a clear throat. I looked over at my mom, and her eyes bulged into shock. I quickly glanced at my stomach and pretended nothing happened. Nurse Maggie then took the test on me. After the test was over, my mom and I walked into the parking lot. She stood for a moment. I stopped and looked back at her.

"How could you do this to me?" She asked with tears filling her eyes. I walked over to her and wrapped my arms around her.

"I am sorry I am not perfect, mom." I whispered in her ear.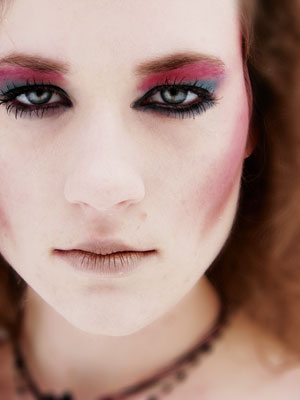 © Elizabeth H., San Bernardino, CA