Grime chapter 1
May 3, 2011
In a word, dingy. In a few words, old, used, beat up. My dad who never seems to be able to get a decent job or house drops my luggage in what I'm assuming is my room. It's a dirty white color, streaks of smudged dirt everywhere. A bunk bed is pushed into the corner and looks like the top level is about to collapse on the bottom. A half open door off to the side shows a small closet with some coats hanging out. The carpet is as dirty as the walls.

"Yeah, it needs some work, but I figured you wouldn't mind. You're sister is younger and you know, used to the nicer things." I narrow my eyes at the mention of my half sister and shrug.
"Yeah, I'll be fine."

"I'll bring you a vacuum in the morning. It's late, get some sleep." Then with a kiss on my forehead he walks out. I hear him talking to my sister, sweeter and longer. Asking if she likes her room. I slam my door shut and lock it.

I look around the room once more, then start planning. I wont take out my stuff till it's cleaned, I'd just have to move it around anyway. I check my watch, see it's only ten, and walk to my sisters room.

My sister is sitting cross-legged on the bed, smiling, and going through her Blackberry. My dad is sitting next to her, laughing at some joke he made. He's not even her dad. I think to myself.

"Where's the vacuum?" I stand in the frame, not wanting to get closer to them.

"I thought I said I'd give it to you in the morning." He glances at me then back at my sister, talking again.

I interrupt not even caring. "I want to get started tonight."

"Started on what?" My dimzy sister cocks her head to me. Her thick brown hair is in loose braids off her shoulders.

"Cleaning."

"Why? Is it dirty?"

I ignore her and ask where the vacuum is again. "Closet downstairs."

I walk out without another glance. I find the closet and lug the vacuum upstairs. I run it over my carpet and it gets about half a shade whiter. I sigh, and stare at the walls. I rub my fingers across it, and the grime comes off on my fingers. I run my fingers through my hair and walk downstairs for my laptop. I quickly look up how to clean walls then gather the stuff.

In two hours I'm finally done, I'd scrubbed hard and I suppose it looks nicer. I take out my few pictures and pin them up. There's one of me and Shea, one of me and my mom, and then one of me at the zoo a few years ago. I start to cry looking at them, then rub them away. I can't wait for this year to be over.

Next I dust off the dresser and inside the drawers. I hear the hall light click off and so I quiet my movements so that I don't get interrupted for making to much noise. When everythings all dust free, I put in my clothes.

I realize I have a drawer left over. Good, I need space. I pull out the journals and sketch-books. Next to it I lay my new pack of colored pens, a few mismatched pencils, my favorite black pen, charcoals, colored charcoal-crayons, and a mini set of paints. I smile, the image of an artists tools all next to each other seem like the perfect picture and story to me.

The rest of the stuff in my bags I stuff on shelves and under the bed. Then after all that's done I wrench the closet door, one of those stupid foldable one, and walk inside. I cough from dust rising up. Apparently this closet is my dad's storage room for, everything. I barely fit in. I scan the boxes and it's his baseball stuff, old clothes, childhood stuff, my childhood stuff, and more.

I sigh, knowing that to have my usual tradition I have to clean this out at some point. Glimpsing at my watch it's twelve-thirty. I yawn and flop down on the bottom buck. The mattress is too firm and dust comes up when I land. I push myself back up and drag my mattress off the frame. Taking it down the hallway and and outside, I grab a broom and beat it till I'm on my knees coughing from the dust. Then I turn it over and beat that side.

When it's all dust free I drag it back upstairs, grabbing clean blankets and pillow cases on the way.

Finally laying down to sleep, I'm praying that this year will be painless.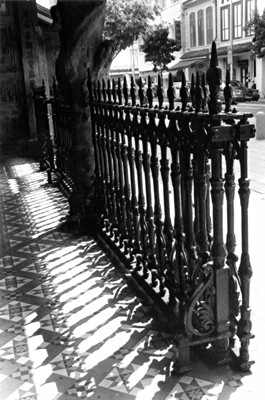 © Gretchen L., Edina, MN