The Price of Silence
May 9, 2011
The man sat in front of the TV, the dim glow bouncing off the cold beer he was sipping. It had been a long day at work, and all he really wanted was a few hours to himself. He stretched his neck, kneading at the knots buried deep.

"Daddy?" A meek voice came from a tiny pajama-clad figure next to the TV's bluish aura.

No response. A pounding pressure throbbed in the back of his skull.

"Daddy?" The pajama-clad figure was a bit louder now. He positioned himself in front of his father, his miniature hands placed defiantly on his miniature hips.

No response. A searing pain replaced the dull throbs, and the man gritted his teeth.

"Daddy, I think you hurt Mommy's feelings. She won't stop crying." His father waved him away, an unfocused light in his eyes.

No response.

"Look at me!" The pajama-clad figure was blocking the gleam of the TV, his voice a high, reedy whine.

"Get out of the way, brat," he growled, pushing his son to the ground.

A tear slipped down the pajama-clad figure's cheek.

And then silence. Finally.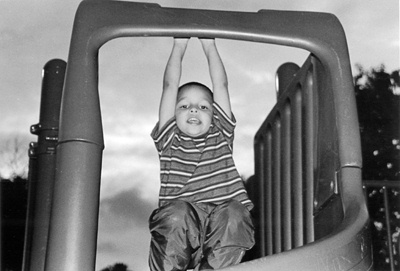 © Yesenia D., Boston, MA