The Flag
May 18, 2011
I hated that flag. I hated the colors and stripes and stars. I hated everything it stood for. Red like the blood Ryan never would have lost if not to fight for it and the passion we had for each other. White like the innocence of a child being sent to war or the color of my wedding dress. Blue like ocean that separated us for months and the color of his skin when he finally came home cold and dead. The horizontal stripes lay like Ryan's body lays in the coffin. hat is to be lowered, horizontally into the ground. Then of course there were the stars. The stars that reminded me of our last talk together, before he went overseas again. We laid under the starry night sky and talked for hours about nothing and everything. We laid there knowing we would not see each other for a while, thinking about our future as a couple. We laid there trying to enjoy the peaceful moment we had before the hectic business of the next day. I hated those stars the most.
Once the flag was handed over and the guns fired, people said their last goodbyes and slowly started to leave for a quick reception at his home. Mrs. Beaupre and I were the last ones to leave. We just knelt at his freshly buried grave and said nothing. Did nothing. Felt nothing. I took the flag back home.
Its funny how a piece of cloth is supposed to stand for liberty and freedom, but what is the price that we pay for it? Is it really worth a good man's life? A life that could have been filled with happiness but was severed by the sharp knife of death. I once thought so, Ryan thought so I would guess, but I'm not so sure anymore.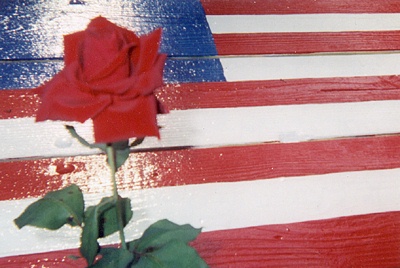 © Elizabeth H., Gulfport, MS