What's Up DOG?
June 25, 2011
Thump. Snoopy jumped up from where he was sleeping on the rug by the front door as a pile of letters landed next to him. He let out a bark, and I scurried down the stairs to where Snoopy was waiting, his tail wagging. "Good boy." I told him, as I bent down to pick up the mail that the mailman had dropped through the slot in our front door. I stood back up and reached down to scratch my dog behind the ear.
He sure didn't look like a Snoopy. Not like the one from Peanuts anyway. First of all, Snoopy was a golden retriever mix with the shiniest, glossiest, and softest golden brown fur you had ever seen in your life. My family and I had gotten Snoopy when he was just a few months old from the SPCA adoption center.
He was the tiniest little thing with a decent amount of fur, but his records showed he had some problems when he was born. At first, his owners didn't think he would survive, so they took Snoopy to the vet where they wanted him to be put to sleep. Dr. Kingsley, the vet, told the owners she would have to give him a check up first, and they told her to do whatever she needed to because the little runt wouldn't live anyway.
After a few days of examining the puppy, Dr. Kingsley had to admit Snoopy didn't have a very big chance of surviving, but she had hope and called the owners to tell them she would take care of the puppy so they wouldn't have to worry about him anymore. As days turned into weeks, and weeks turned into months, Dr. Kingsley took care of Snoopy everyday and made sure he was well again. Then, finally, one day he was strong enough and she gave him to the animal shelter where the puppy, who was once a weak runt would hopefully find a loving family and home.
A few days later I stopped by the shelter with my parents. I looked around and that's when I saw him. Even with barely any fur on his little body, and as tiny as he was, Snoopy was staring out the window, his tail wagging, as he watched people walk by without even a glance in his direction. "That's the dog I want." I told my parents, and the next day we brought him home.
Snoopy. It was the perfect name. Right when we set him down on the floor he was running everywhere; in every room, snooping through the closets, under the beds, and even my backpack and shoes! Snoopy was the perfect name, because well, he loved to snoop around!
"Treat?" I said, as I walked towards the kitchen and placed the mail on the marble countertop. Snoopy followed me into the kitchen, his tail still wagging, and smiled. He actually smiled. Seriously. This was another thing about Snoopy. He loved to smile. The corners of his mouth would go up, showing his pearly-white teeth. The way he smiled reminded me of Winn-Dixie from the book 'Because of Winn-Dixie' and I couldn't help but smile every time he did.
I opened up a bag of bacon flavored Steak Snaps, which were Snoop's favorite. "Catch!" I told him as I threw a piece in the air and he leaped up and caught it in his mouth. I watched as he finished chewing, and suddenly his ears perked up and he cocked his head to the side. That meant somebody was here. The front door clicked, unlocking it, and my parents walked in.
"How do you always know?" I asked Snoopy and he just looked at me with his warm, golden-brown eyes. "Hey, we're home! How was school?" Mom asked as she set her bags on the counter next to the mail.
"Fine; we had a pop quiz in math today and I got a 100!"
"That's wonderful! Your dad and I bought some ice cream at the store. You can have some as a reward if you'd like."
"Awesome, thanks Mom."
"Why don't you take Snoopy in the backyard for some fresh air? It's a beautiful day outside, and the old boy could use some exercise."
Snoopy barked just then at Mom and she stopped to look at him. "Alright, alright. You're not old." She said, laughing, and Snoopy wagged his tail. "C'mon Snoop dog, we're going outside!" I told my pet as I grabbed a Popsicle and opened the back door, with Snoopy following me outside.
We ran around a bit and played catch before taking a break. I sat under the tree as my dog walked around the yard. Everything was fine until suddenly collapsed onto the ground.
"Snoopy!" I yelled as I jumped up. "Mom, Mom!" I screamed as soon as I stepped into the house. "What is it?" She called back, running into the kitchen with my Dad. "There's something wrong with Snoopy! Hurry!" Frantically, I beckoned them to follow me and I ran ahead to where Snoopy was laying on the ground.
Mom knelt down and placed a hand on his chest while I pet his head nervously. "Snoopy, Snoopy, wake up! Can you hear me boy?" I said, fear spreading through my body faster than an out of control wildfire.
My poor dog lay still with his head resting on my lap with his eyes closed. I closed my eyes too and listened to his soft, even breathing. Mom said he was unconscious, but still alive. I sat with Snoopy, talking to him and telling him everything was going to be alright while my Mom called the vet who drove over as fast as she could.
Snoopy's vet, Dr. Kingsley, was the same one who had taken care of him when he was just a puppy. "Goodness, I had hoped this wasn't going to happen." Dr. Kingsley murmured as she examined him. My parents and I didn't understand what she was talking about, so she explained.
It seemed when Snoopy was a puppy, Dr. Kingsley had found a disease that slowly shut down his organs one at a time starting to form in his stomach. Luckily, it had just started to develop so she thought with a few surgeries and medicines, he would be alright. And he was. Until now.
"The disease must be coming back." She said, shaking her head. "I'm so sorry. We could take him back to the office and quickly run a few tests and get into surgery right away." The doc continued, starting to get up.
"Dr. Kingsley, that sounds fantastic. Are you sure you're not busy right—." I tuned my Mom out as I thought about the past few days. I realized with a sinking feeling that Snoopy had been getting tired more easily than normal, but I had ignored those thoughts.
"NO!" I blurted, without even thinking, interrupting my parent's and the vet's conversation. Everyone stopped and stared at me. "I-I-mean no. We're not taking Snoopy to the vet." "What? We need to. Don't you want Snoopy to get better?" Dad asked me.
I nodded slightly as I looked down at my only dog, whose breathing was getting slower. I knew there was something wrong with him, and even Snoopy knew it too. "It's too late. There's nothing we can do now. It's time to let him go." I knew my voice was started to quiver, and I tried to blink back my tears. "Snoopy was a good dog. The best dog. But things come and go. It's just life, and it's time to let Snoopy go."
My parents, and even Dr. Kingsley, came and sat down beside me and Snoopy. He was a brave dog and even when he had been hurting and knew there was something not quite right, he had still lived his life to the fullest. I was proud of that, and proud of him as I knelt by him until his body was silent.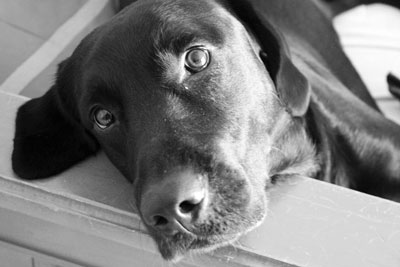 © Lindsay L., Snohomish, WA