Dear Joey
August 7, 2011
"I don't want to be alone
But now I feel like I don't know you."


Hayley Williams of Paramore floats out of the radio filling the air of the musty garage. The same garage we used to hang out in, all those summer nights. Just you, me, and the little quirky radio we brought back to life years ago. I love this song. I wish you were here to hear it. When I told you not to come over, I didn't think you would actually listen. Well, I guess a part of me did. I lean back in my lawn chair, steaming in the heat of a long day coming to an end, tilting my head back to catch the last drops of Coca Cola. Your favorite. I'm wearing my converse and your t-shirt. Which I should give back. Other things I need to give back:
-
Hoodie
-
Necklass
-
Radio; I feel like you should have it
As the sun sinks heavily under the Earth I start to doze off.

Seeing you today was so hard. Almost as hard to deal with as the fact that you didn't see me back. Or try. Supermarkets are confusing places. And all I needed was pasta sauce for dinner.

My dad told me that sometimes you just have to let people go.

The night we broke up they were giving away roses for free at the flower stand. I broke up with you. In words. It was my cursed words. But you broke up with me weeks ago. You've been breaking up with me, every day since summer began. You've been packing and packing. Even if you didn't know it. I did. I wonder where you are going. I don't even know if you know. I left you standing by the flower stand. The salesman gave me a rose.

I am walking up the steep driveway to your house. And ringing your doorbell. I pray your mom doesn't answer. I should've come by earlier, while she was at work. I'm clutching your stuff.
"Hey."
You say.
I try to read your expression, evaluate your tone. But you're pretty much expressionless. I don't even know you. I can't read you anymore, and it freaks me out so much. You're not an open book, but I used to know you so well. It didn't matter. It doesn't matter.
"Hi."
I say.
You stand there waiting.
"Uh, this is yours. Stuff." I pass the pile like it's a ticking bomb. "So, uh… see you 'round."
I step backwards and turn to leave.
"Claire, wait."
You lunge forward and place your hand on my shoulder. For a moment you are pulling me back. Your hand is on my shoulder. So I turn. We look at each other. You break eye contact first.
"Thanks."
Is all you say. I shrug. Then you see the radio.
"Claire, no; I can't take this. It's yours."
"It's as good as yours as mine," I say. Does that even make sense?
"Well, I guess we should pitch it then. To be fair." You walk over and place it in the trash can on your driveway waiting to be taken to the curb. At your touch, it starts to slowly creep down the steep concrete. You don't notice. You just look at me a while- a calculating look- mutter "See ya" and shut the door behind you. I drag the trash can back to where it stood previously, and after a few seconds, pick up the radio. I walk back home as the hot sun beats down on my shoulders.

I am not a sentimental person. What the heck am I going to do with this old radio? I should've left if in the trash.

I loved you enough to let you go. Some battles aren't worth the fight. Sometimes, battles aren't even battles. Sometimes you have to give up.
This is what I want to tell you. Because I know you. Even thought you are changed, though you are so unknown, I know you so much.

My hands are sweating as I write this, sitting in the garage, drinking a coke, and thinking about the stuff I need to give back. I need to give you back.

But then I didn't give you the note. I still hold it in my hand while I walk away with the radio.
The park is on my way home. An arched wooden bridge crosses over a muddled lake. I stop at the center of the bridge and peer down. The surface of the water is about ten feet from my hair, hanging down from my head. The water is untouched. A clean, glassy, slate. And deep. I want to chuck something at it. So I chuck the radio. And this note.
The radio sinks fast, fading into the abyss. Soon all that's left are the ripples circling out from the exact spot where the radio made contact with the glass slate. This note takes longer to sink. I watch as the water slowly spills over the sides of the paper, eventually submerging the entire thing underwater and taking it down to join the radio.
I step back from the bridge to head home empty handed. You will never know.

A man from my neighborhood is about to pass me. I hope he won't see me, but he does.
"Hello, Betsy."

I don't bother to correct him.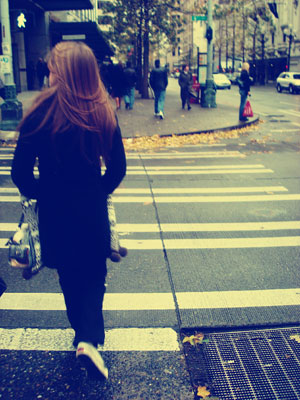 © Adria O., Edgewood, WA