Ever After.
August 13, 2011
It was Robert again.

Mariana knew this, even as she rose from a so-familiar bed that she had called her own at one time. It was Robert, and there was no getting around it.

Even as she sat at the crooked kitchen table before a bowl of cereal and across from such a homey face, she could not escape the fact.

Mariana took a bite of cereal, pushing the soggy corn flakes down her throat. She pushed back a look of disgust from her face, and pushed back her chair. Slowly, she rose from the chair as an elder with arthritis. Mariana stood before Robert, whose eyes rose to her face in a truly slow form as well. A shallow breath steadied Mariana, and then she was off.

"Robert." The name was not affectionately called, but obligatorily called. "I know that this was working for us, and everything was going well." Mariana broke eye contact with him, her view shifting towards the world outside the house. Robert noted a glassy appearance to Mariana's eyes. She went on, "but now, I just don't feel anything. I mean – " and she looked at him guiltily here " – I sigh every day and our hands just don't fit and the time drags by."
Mariana looked at Robert for confirmation, but found only bewilderment. He shook his justified head so imperceptibly, and that was enough.
Again, Mariana's vision drifted into the middle distance, leaving Robert in a slightly lonely trance. That was just the way things were, lately.
"You just don't get it, do you?" Mariana said to the woods outside. A rebel smile crawled onto her face, one to stay. For the last time, she locked Robert in with those ocean eyes of hers. To this gift, this one last solace, Robert frowned. He frowned a large, intentional, extreme-downturn-of-the-lips'-corners frown.
Violence does not have a place in this house; that is what Robert would have said to Mariana's words. But he never had the chance; Mariana was spirited away to his bedroom to collect her things, back down again, and out the door faster than he could formulate the words in his mouth. His shabby, gray mouth.

One could notice the young woman running down the street. One could notice the grin splitting her face, or the wind in her hair, or the skirts that rustled like wings behind her. It could be noted that she carried blank canvases and leather bags unzipped, the occasional toothbrush taking to the air and then the pavement.
But then again, this could just be a normal occurrence in the eyes of the artist, and the sun and sky above her just as appealing.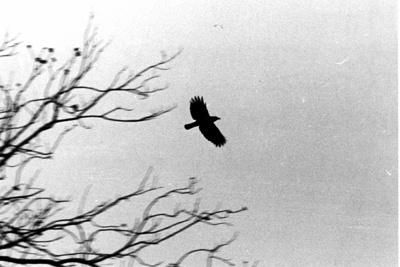 © Jacqueline T., Flowermound, TX