You Can't Always Get What You Want
August 31, 2011
I hate her.

In this town, you get all kinds. I'm the kind whose family is working class, whose mom runs her own housecleaning business, whose summer job is scrubbing rich people's toilets just to save for college. So every morning, when othere kids my age are sleeping or eating or going to the beach, I'm loading up my mom's van with bleach and vacuums.

This morning, I stood on the front steps of a mansion. No exaggeration, the stairs were marble and I could feel the polished cherry wood of the door under my sweaty hand as I knocked.

Her mom opened the door and greeted my mom with a falsely cheery hello. She stood in her pearls and heels, looking down her nose at the sight of me and my mop. Judging.

I was led upstairs to begin cleaning the second floor rooms. I caught a glimpse of her bedroom – spacious, decorated, bright. A five-star hotel compared to my cupboard under the stairs. Her mom steered me away, though – bedrooms were reserved for the professionals. She assigned me the bathroom. An honor.

My equipment sat next to the gold-faucet bathtub. I pulled out tools of the trade – mop, bucket, sponge. Just as I was about to begin, I glanced out the window and saw her.

She floated gracefully on a lounging inner tube in her crystal blue pool. Her perfectly tanned skin was broken only by a designer bathing suit and huge diva sunglasses. As I watched, the housekeeper brought her an iced drink, complete with an umbrella. A freaking umbrella.

Anger burned within me, and I turned away in disgust. I'm up to my elbows in dirty suds and she's sipping a strawberry daiquiri. I bet she's never worked a day in her life. She went to parties because her parents could buy her into college; I stayed up late studying so I could get a scholarship. She wore designer clothing; I was lucky if I worse the sales rack at Kohl's.

She floated; I worked.

I hate my mom for sucking up to the rich world. I hate society for creating such vast economic differences.

But mostly I hate her, because she'll never know what it's like to be me.

*****

I hate her.

There are a number of different kinds of people in this town. I admit it, I'm on the wealthier side. I spend all of my time attending functions for my parents or posing for photographers. So while other kids are out having fun and partying, I'm commuting New York City for photoshoots.

This morning I woke up at six. I performed my routine workout – rigorous enough to keep me thin and first protein supplement of the day. I met with my agent to go over interview questions for a new modeling agency. My mother allowed me one hour of meditation before today's photoshoot.

My housekeeper brought my second protein supplement drink out to the pool, and as I turned to accept it, I saw her at the bathroom window. She moved out of view before I could see her face, but I knew who it was.

Life as a model is difficult. I don't think anyone realizes that. I don't think other people understand the sacrifices I've had to make. She gets to work with her hands, relieve her stress through manual labor. I used to garden with my grandma. Working with the dirt and pulling vicious weeds allowed me to vent and think. But my mom took that away because the dirt jeopardized expensive manicures. I used to love to bake, but my mom took that away, too. I could get fat from the eating what I made, and besides, the less I did, the less likely I could mess my perfect self up somehow.

I bet she's allowed to do what she wants when she wants. I bet for her mom's birthday, they bake cakes togethere. I bet she has real friends, not carbon-copy Barbie dolls. I bet she's allowed to make her own decisions.

I hate my mom for controlling my life. I hate society for putting so much emphasis on looks and money.

But mostly I hate her, because she'll never know what it's like to be me.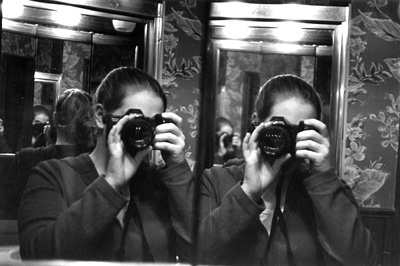 © Natalie D., Marblehead, MA