Lies.
September 1, 2011
I'm trying to hold it back. I'm trying to keep those words in my mouth, trying to lock them up inside so that they don't slip out. I have so many nasty things to say to her. It's her fault I feel this way. She is the one who lied to me. She deliberately told me a made up story for some stupid reason that I don't even care to know about. I can't believe she would lie – lied – to me. It hurts so much. I'm angry at her and also angry at myself for ignorantly believing her and going along as if everything was normal. I should have stopped hanging out with her earlier. It would have made all the difference in the world.
I'm shaking with anger, I'm so mad. I know that I probably should have stopped to talk to her, to tell her my feelings and why I'm so upset. But if she can't figure that out right now, that's her problem.
I am half avoiding her and half wanting to talk to her. I don't want to see her at all because I want to avoid that stage where I blow up right there in front of her, unable to stop the words flowing out of my mouth. If I did that, I would have to see her face curl up into a disaster as she realized that my words were true, and that what she did to me destroyed me.
However, I want to give her a piece of my mind. Does she not understand how much pain she has caused me? The lies, all of them – they were all made up. I should have known that in the first place, that everything she was telling me was impossible. But I didn't. Instead, I stupidly went along with it and only seriously questioned it near the end. Only then did she have to tell me that she had been lying all this time.
She doesn't get me, and more importantly, I don't get her. We have nearly nothing in common. So why was I friends with her in the first place, anyway? I don't even know. It's just so hard to understand everything that has happened in a matter of days. Everything has fallen apart. But I still don't think she realizes even that yet.
That's why when she asked me casually, "So do you get what I'm saying?" I blew up – but silently and calmly. Boy, did I want to just let it rip and tell her off. It was hard to hold myself together.
The best, nicest thing that I probably could have said was, "Yeah, I get it." But I couldn't say that. It would have been a lie. I didn't understand anything at all. I didn't even know why she had lied to me. I didn't even care about whatever she lied about; the important thing is that she lied. No friend of mine tells me a fake story for a stupid reason. Nobody lies to me and gets away with it. They'll have to go through the same thing I had to go through – pain.
It doesn't have to be physical pain. The most effective and long-lasting kind of pain is emotional, mental pain. Being ignored is very effective, too. It causes guilt and regret to form in the liar's mind. It shows the liar how I really feel about them. It tells her that I am not going to let her get away with lying to me and telling me stories that never existed in the first place.
Instead of giving her the answer that she wanted and probably expected, I told her, "No. I don't." I tried to keep the tone of voice nice, tried to make it sound light and friendly. My efforts didn't work. I was too angry to really try.
"What?" she asked as she looked up. How could she be so alarmed? I had been ignoring her the whole day so far. I'd jerked my head over to her when a teacher had talked so powerfully about lying during the school assembly today. I had not been enthusiastic to see her at break or at lunch.
I could have blown up right then and there. But I didn't want to cause a huge and complex circle of anger. Instead, I spun on my heel without looking at her and started to walk away.
"Wait – Ashley!" she said with the same alarmed tone she had used before.
I didn't say anything. I kept walking.
"Ashley."
"What," I said fiercely, tightening my jaw. I didn't even hesitate or stop as I continued walking.
The fact is that she's not even strong enough to follow me and ask what's wrong. She can't even run after me and demand for me to tell her why I'm being like this. She's weak and hopeless. She will never find her way through high school – not if she keeps on acting like this.
Walking away out of anger felt good, in a way. I felt like I was walking away from the past. I was walking away from all of those times when we'd hung out together or had talked about rumors that she probably had made up, too. I was walking away from her lies, our friendship, and whatever had brought us together. I could feel it shattering into more bits and pieces the farther away I walked.
Half of me expected her to run after me. When I got inside and sat down in the library I waited for a minute to see her panicked face coming towards me. I never saw it.
I still can't get over the fact that she lied to me. I can't believe that she didn't see my anger coming. I'm pretty sure I didn't hide it that well. If I had lied to her, I would at least know that she'd probably be upset with me. How could she not see that for herself?
Our friendship is over. Gone are those times when I take pity on her and hang out with her and nobody else. Gone are those moments when I laugh with her and chat on that windowsill that we used to sit on together. Gone is the frustration that I have with her when trying to get her to hang out with the people I want.
If she doesn't find a new friend, that's her problem. I'm moving on. I'm sick and tired of only hanging out with one person in this school. I can only do that and handle it for so long. I've already been planning to shift over to the other side, the social side. Now I can do it fully without having to worry about her tagging along. I am crossing the line. If she chooses to stay behind in the dust, I will leave her in the dust miles behind me. If she chooses to sit somewhere where none of my other friends are sitting, I will not go out of my own way to sit next to her to keep her company. If she asks me to come with her to the cafeteria to get food, I will stay right where I am and tell her no.
If she can't make the effort, that's not something that I have to deal with. I am now free to take that step forward that will lead me to the people who I want to hang out with, the girls who I enjoy being with.
I can now do anything without thinking or worrying about her – the one who I befriended and then was lied to.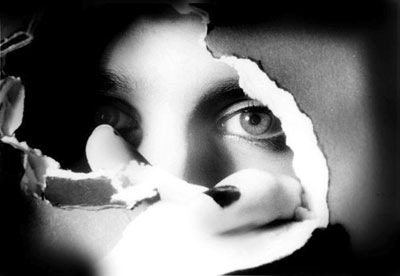 © Tabatha B., Peoria, IL