The Boy
October 4, 2011
The boy had a good childhood, which was never busy. Days lasted forever, and weeks an eternity. Through elementary school he enjoyed life, and never sought to involve himself too much outside of school. His days passed with idleness and good-intentioned fun. People warned the boy of a time when his days would pass by with a blur, and he would envy the pleasures of childhood. However, the boy believed such a day would never come.
As he passed through elementary school and middle school, his schedule took on more appointments, but that didn't bother him. His free time was still free, and there was plenty of time to pursue idle pleasures. On the dawn of high school the boy started to worry that his free time would be gone, consumed by homework and extracurricular obligations, but it did not turn to reality. For two years of high school the boy still led a peaceful life, until he visited the DMV.
For months the boy and his mother had waited for the day when he would be licensed to drive a motor vehicle in the state of North Carolina, and the day had come. The driving test was passed, and a whole world of opportunities was unearthed for the family. Suddenly the mother no longer had to cart around the boy everywhere, and he did not have to rely on his mother. His perception of himself evolved, and now he was a man. He was a man who didn't need to be bothered by his family, and who could involve himself in as many things as he pleased.
"Could you help us with-?" and before that question was answered, the man would oblige. He was a member of councils, commissions, and boards. He worked a job, joined clubs, and volunteered. The man's life was filled with so many things that his mother had not the time to take him to before, and he loved it. He loved being his own man, and managing his own schedule, but his mother did not love it at all. He had forgotten he had a loving mother at home, who cared very much for her son.
He would come home for a few hours every couple of days to see how his mother was doing, and sleep in the bed that she still provided. Arguments would break out when the man returned home, and didn't bother to talk with his mother. She didn't understand why he was never home, and why he left her alone. He couldn't comprehend why she didn't understand that his schedule was overwhelmingly busy. Even though he fancied himself a man, he still had his education to attend to.
School had become torturous, a burden that was hard to bear. After school he had his involvements, and his car to take him there. When he'd arrive home to do his homework, the time left in the day was nearly gone. So instead of acknowledging his mother, he'd take the time to do more work.
Relations at home had become strained, and the work on the man's plate was hard. He couldn't manage everything at once, and came home one night in a mess. His mother had sent him a text that read, "There's food at home if you'd like." Even though he was meant to stay somewhere else that night, he decided to go home instead.
When he came inside there was a bowl of pasta waiting, and a smile from his mom's beautiful face.
She said, "Hayden I hope you're hungry, because there's more than enough to taste."
The two ate and enjoyed their supper, even though the hour was late. And when the meal was finished, they decided to converse about things forgotten. It had been so long since the two had talked, that there was quite a lot to catch up on. Hayden had no time in his life, and his mother was quite sympathetic.
She made his bed up with fresh, clean sheets, and tucked the young boy in to bed. He went to sleep that night, knowing dinner had not been about getting fed. The man he had been left that night, and returned the happy boy. The boy found in his mother a loving parent, who he had really always had.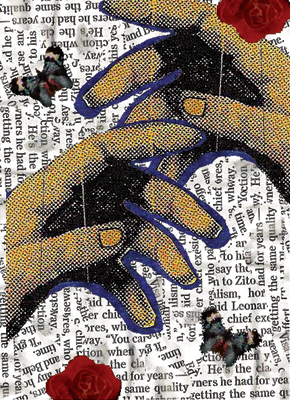 © Christine S., Arlington, VA