Know How to Love
October 17, 2011
Rita clasped a blue tinted faux Mother-of-Pearl necklace around her neck. Her weathered fingers then stroked the artificial surface as she admired the pendant. The earring and necklace set she had chosen today did in fact go very well with her white trousers and blue top.
"Rita, the party will be half over by the time we get there!" her husband Oscar warned her from the hall way. His voice was tinged with annoyance. Parting a denture filled smile, Rita shook her head softly. His annoyance was not genuine at all, and Oscar couldn't be mean, even if he tried.
"Coming, grump." She yelled back. The last thing to complete her outfit would have to be a blue and yellow patch-work purse.
She made her way out to the minivan and Oscar was already waiting in the driver's seat. She closed her car door gingerly, and took her time buckling the seatbelt.
"Ready?" he questioned, starting the engine.
"I think so." Almost ready. An obnoxious shade of pink lipstick was pulled from her purse and applied to her lips in less than ten seconds.
Oscar had waited for this little ritual, then backed out of the driveway.
Not ten minutes later they arrived at the restaurant, and pulled into a parking space that was close to the entrance. Just as Oscar was about to unbuckle his seat beat, Rita grasped his right hand, then smiled sweetly at him. He smiled back. No words were needed as the couple almost telepathically reminisced over a thousand inside jokes and numerous years spent together. They walked hand-hand into the restaurant, almost oblivious to anyone around them.
"Engle Birthday Party please." He told hostess.
"Right this way." She smiled brightly. "Are you the birthday girl?" she questioned, addressing Rita.
"Yes, sweetheart." Rita smiled.
"Well, happy birthday!" How could this hostesses' smile be getting any bigger?
She led them around a corner, into a smaller room with an oak table. The family was already waiting there, equipped with balloons, streamers, and multicolored party hats for the grandkids.
"Happy Birthday Grandma!" the crowd shouted in unison. The cheer was followed by giggles and hugs.
Rita insisted on hugging and kissing everyone before she sat down.
The meal was anything but silent. There were at least 5 conversations going on at once. At the end of dinner, a waiter brought the pineapple upside down cake that Rita's only daughter, Hannah had made.
"Hannah, this cake looks delicious! Oh my goodness!" Rita praised as the waitress set the cake before her.
Hannah just smiled.
"Well, who's going to start the birthday tune?" Rita questioned. Oscar took charge immediately
"One, two, three!"
Every family member burst out in song loud and proud. In the middle of the melody, Rita forgot the next few words, but caught on again by the end. She passed it off as nothing, just a fluke.
She took a deep breath and blew out the "6" and "5" birthday candles as hard as she could. Everyone clapped, while the youngsters began asking for the largest piece of cake.

"Draw a blank?" Rita piped, sipping her coffee the next morning. She was still stuck on the first section of the cross word puzzle in the paper. Oscar just shrugged his shoulders.
"Those darn puzzle things have always been you thing, sweets, not mine." He concluded.
"Well, I'm drawing a blank." She puffed, throwing down the paper.
"It'll come to you." He soothed. Rita nibbled on her pen, lost in thought. Oscar decided to let the matter rest and grab a drink of water. When he opened the cabinet containing the drinking glasses, there sat Rita's hair brush. He picked up the wiry pink tool, looking at it.
"Honey?" he walked over to her chair and placed the brush on the table. Rita looked at it, then at him.
"What are you doing with my hair brush?" she looked quite puzzled.
"I found it in the cabinet." He said, scratching his head. She made a questioning hum, then went back to her cross word puzzle. Oscar stood there a few moments, unsure of what to do.
"Well, I'd hate to bother you so I'll just put it back myself!" she puffed, standing up. She grabbed the brush off the table and stomped down the hall into the bathroom. When she came back, Oscar was still standing there, bewildered. This was not like Rita at all.
She slid back into her chair, slightly calmed down.
"Rita?"
"I'm fine, Oscar. "

Rita apologized the next day. She explained that she had no idea what came over her, but it was probably just the frustration of the cross-word puzzle. She never did finish it, anyway. Every Monday Rita went to a ladies painting hour at the YMCA. This morning they were painting bird houses.

The small project room was filled with frosty headed ladies, jabbering and laughing occasionally.
"When you ladies are done, we are going to spray the houses with a weather conditioning coat. We want your works of art to last a lifetime!" Connie, the directress of the hour announced. The ladies set about painting right away. First the agonizing choice of color scheme haunted the women, and they discussed and debated this for at least ten minutes.
Mary Jane, Rita's closest friend at the hour was reaching for the blues and greens.
"Oh, Janey, that will make a beautiful house!" Rita exclaimed. Rita was eyeing up the yellow paint. It was on the other side of the table, so she had no choice but to ask someone to pass it to her.
"Dana, would you mind handing me the—" she stopped short, trying to recall what she wanted. The yellow paint. Her bony finger was pointing at it, so Dana guessed what she wanted.
"Yellow paint, deary?" she asked.
"Yes! I'm sorry, it just slipped my mind!" Rita laughed, and the other ladies followed suit for fear of making the situation awkward if they didn't. Dana handed Rita the paint, not convinced that she was Okay.

Rita arrived home around lunch time.
"Oscar?" she called, walking into the kitchen.
"In the bedroom, Rita!" he answered. She found him reading a book on the bed. He looked up at her when she came into the room, through his bifocals.
"How was painting hour?" he questioned. She sighed, then plopped down on the bed.
"I painted my bird house a nice bright color." She smiled.
"Great. Ready for lunch?" he said, heaving himself from the bed. Rita yawned.
"Oscar, I'm just going to lay down for a small nap." She said, laying her head down on the pillow.
Oscar flicked the top light off and sauntered into the kitchen. He scanned the fridge for a potential lunch, then stopped short. Rita's car keys were in a pile next to the coffee creamer.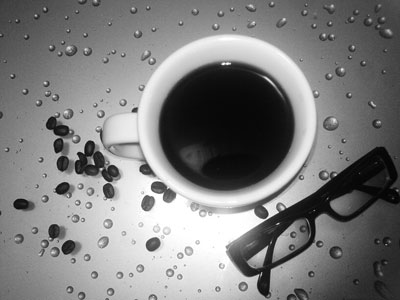 © Hannah U., Staten Island, NY