Of Desparation
May 11, 2012
"Sweet are the uses of adversity…"--William Shakespeare

She hadn't been more acrimonious in her life. Her boyfriend broke it off...Well, actually, it was more alleviating than anything: it'd been coming for a long time. He was never real with her, never paid attention, never made time...Still, she should have done it long ago. She was foolish for letting it drag on. It would've saved her a lot of heartache, a lot of precious time.

She had to leave, to get away from these people so accustomed to hurting others without the slightest conviction. They lie, they steal, they neglect. They cozen others into doing things for them using condemnation and guilt.

She took 96 out past the city limits, Lionel Ritchie and Lady Antebellum chosen to accompany her into the night. For the longest time, she wanted this more than anything: liberation from the yesterdays, the last nights. Such freedom was sweet, she thought, even if it meant running away...Was it cowardice to separate herself from that, to find an out?.. Certainly not. She would've gone crazy if she hadn't. It was best...She would come back for her family...She would come back...

She relaxed, though still perplexed. It would be nice to have a friend--a best friend--in whom she could confide and discuss such things. She feared, though, of becoming vulnerable, of becoming an open target for dishonesty and harassment. She found the common goodness of people like that of the fleeting apparitions attacking her windshield.

She drove, not expecting to find anything, indulging in self-pity and hopelessness. She tried drowning herself with the soothing music of Mr. Ritchie, struggling...failing...Thus are the toils of a pondering mind. Sanctuary could never be obtained.

Unsettled, the girl thought that maybe she could explore some city or town she'd never been to. That was on her list of things to do before she died, among other things: ride in a hot air balloon, eat sushi, go cliff jumping, etc., etc... If only she had someone to experience it with... Nonetheless, she would travel on her own...Well, of course, after she had some rest...rest…

She drove.

She didn't want to think about anything in her world. How she would kill for one of those mind-numbing conversations with her brothers and her mom: you know, the kinds that dive into things like the psyches of turtles and flies. She sought out her Regina Spektor CD, greatly indebted to her sister for such reverie.

She thought it would be nice to end up exactly where she was supposed to be...Somewhere with her dearest family and friends, maybe even a few kind strangers. It would be nice, but...this is life. This is not the Celestial Shore that we all long for. Oh, but it would be nice to live life without certain people...This she knew was grasping for the wind, according to Solomon, for the world is fallen, broken.

Then, she realized...The enemy is lost in desperation...There is a void in all of us. We all choose to fill it, but the means vary. Some choose deception, some choose selfishness, some choose abuse...Some choose...the Right Fit...

She was satisfied with His love and grace and splendor. Her void was filling, though she had the common tendency to not understand what good would come out of the ashes around her. This was not necessarily concerning her, but those she loved. She also wanted something...tangible...Don't misunderstand: God was enough--He was always enough--but, she needed a hand to hold, a warm embrace, a body full of life...She had a problem with this, sometimes. She was desperate for a friend.

She drove.

A cup of coffee sounded nice. Maybe, she would receive some comfort from this. Maybe, she would just bump into someone kind enough to say hello or smile or wink...or sit down and have a nice conversation...She felt like opening up, surprisingly. She wanted honesty, acceptance.

Stopping at an Exxon, she bought a cup of Bengal Traders and Krispy Kreme doughnut holes.

"That'll be eleven sixty...Thank you."

"Thanks."

"Have a nice night, ma'am."

"You too."

On her way out, she spotted a boy. He looked distressed, lost. It was almost as if he had been crying. He was just sitting on the hood of his car, staring up at the moon and the stars. It looked like he needed help.

"Um, hey... Are you okay?"

"Um…No, not really…Thanks for asking." He seemed bitter but kind. She didn't know what solace she could offer.

"Oh, well…uh, are you hungry or thirsty or anything? I have doughnut holes…if you want some. I could get you a cup of coffee, or something." Doughnut holes and coffee were all she could offer. Does he want to talk? Should I ask what's wrong?

"Um, no, that's all right. I appreciate it, though, really." He smiled, still downcast, but…happy-ish…

"Sure, anything," not sure of what to say: "so, ah—where you headed?"

"That's a good question, haha...Away. Away from home," he was laughing now, but you could sense his sadness. "I don't know where, exactly…Maybe to the coast."

"Ha well, sounds like a sweet plan…I love the ocean. It's so peaceful." She should go to the coast, sometime soon…

"Ha yeah," he liked her, she made him smile. He sighed. "I just don't really know if I should go."

"Why not? I mean, sure, there's hurricanes and storms but it'd be nice to just get away. I might not want to live there, but, you know…It would be a nice getaway." She decided maybe she would go to the coast.

"Well, there's expenses, you know. I don't think I have enough money saved up… and, I don't really want to be—alone…" He felt stupid.

"Ah—I understand…I don't mean to be inquisitive, but, why are you leaving—wherever you came from?" She liked to know things about people, not to gossip, but she liked figuring out why people do what they do. She was always extremely curious about things.

"Um, well, I'm from Wilson County—Norene—and I just thought it would be nice to get away, clear my head, figure out what I want to do in life. Things are stressful right now. Everyone wants me to go to college, but I just don't want to. Then, I feel like a weirdo, you know, because you're expected to go to college or something. They're just worried, I know, but I'm pretty burned out on school…So, what about you?"

"Oh, I just had to leave. I had a crappy boyfriend, crappy friends, the people were crappy…except my family, of course. So, what else do you want to know about my life? Ha ha." She wasn't really embarrassed, just not wanting to bore him.

"No, it's fine, really. This is nice." She felt better—comforted. Then, "um, so, where are you going, or are you just making a midnight run for doughnut holes and coffee?"

"I honestly don't know. I'm still contemplating." …She would come back… "I was thinking of going someplace…San Francisco, Abilene, New York, Chicago…Oh, I don't know."

"We'll, I hope you figure it out," he said, smiling.

It was so simple: she could just call her mom and tell her that she was going… Could it be this easy? She could ask him to come along, if, that is, if he didn't have any important, pending engagements. She hardly knew him, though...Did that matter?
"Hey, uh, could I ask you something?.." She would come back...but not tonight.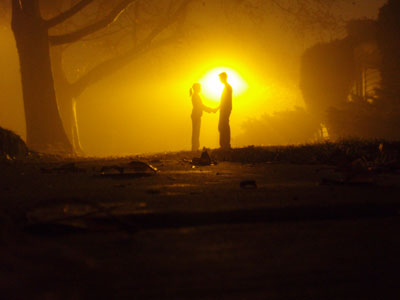 © Tanner H., Kaysville, UT