For The First Time
May 24, 2012
       It's sad and lonely the way I am. Colors have no hue. Shapes have no form and sights to see cannot be seen. It's the way I've lived my life since birth. I cannot see. I can hear, smell, taste and touch, but all of it seems  meaningless if I can't see it. 
     It's like looking into a black hole. A dark void of nothingness. Everyday, every night if I open my eyes all I see is nothing. Its like forever having your eyes closed, crusted together from years of sleep. When I was little I used to imagine that this was how Sleeping Beauty felt.
     But today everything will change. I have undergone an experimental operation. I'm going to have new eyes. Eyes that can see the light and the brightness of the world. Eyes that will only see darkness when they're closed. 
" Mia I'm removing the the bandages now." I hear the doctor say through my thoughts. I nod and he begins to gently unwrap the gauze that covers  my eyes.          
     At first I only see darkness and I panic, fearing the operation wasn't successful. A calming hand on my shoulder and a gentle stroke through my hair helps me relax long enough to realize my eyes are closed.
" Mia can you see what I'm holding?" it's blurry at first but then everything comes into focus. 
     It's my first time to see the world that has always surrounded me and it's different than what I'd imagined, but somehow also the same. I see what the doctor s holding and I know that they're called flowers. I can smell them, they're  lilies.
" they're flowers." I say a smile spreading across my face. I see the doctor smile and I look over at the woman standing beside me. Shes only forty five but we looks much older. Lines of worry etch her face and she has gray hairs in her pitch black locks.
" mother?" she bursts into tears and holds me close in a hug. The tears spill from her eyes and onto my shoulder and I feel my own tears coming out as well. They flow down my cheeks leaving trails as they go and I take a moment and thank the doctor.
" thank you sir. Because of you I can see the world for the first time." a tear comes out of the doctors eye and he smiles at me and puts the bouquet of lilies in a vase on a bedside table. He lets himself out of the room and in that single moment I knew what. Wanted to do for the rest f my life.
" mother. I think, no I know I want to be a surgeon. I want to help people. I want to help people like me. I want them to be able to see for the first time as well."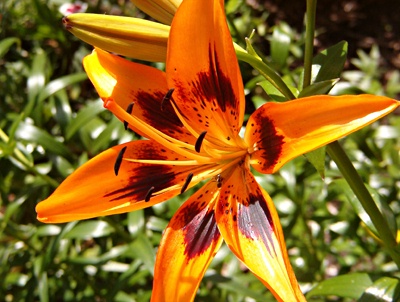 © Terrin C., Humboldt, IA