Shoe-stalking
June 29, 2012
You can tell a lot about a person by their shoes. Don't believe me? Well then, stop reading. Go away. Oh… I've caught your interest, have I? Come with me and I shall show you the art of shoe-stalking.

We are in somebody's closet. You have ever met, seen, heard of, read about, or even imagined this person before. Would you turn the light on, please? We won't get anywhere sitting in a dark closet. There we are! Now, let's take a look.

The shoes are all lined up on a low shelf. First observation: the owner is very neat and tidy. The shelf is dust-free, and not one shoe is crooked or out of place. The owner is a woman, as all the shoes on the shelf are rather feminine. She also favors the color red, telling us that she is not girly, but prefers the flirtatious, sexy, appearance of the foot.

Let's examine the first pair of shoes. No, don't worry. We won't be going through every single pair. She has over a dozen here! We will just look at enough to prove my point.

The first pair on the shelf is obviously her favorite. Hardly a wear, tear or scratch on the top, yet scuffed and dirtied on the bottom from frequent usage. A pair of red sneakers. She favors comfort to fashion, but still views sneakers to be up there when it comes to style.

The second pair: high top basketball shoes, white with the familiar red checkmark on the side. The girl plays basketball. She rather loves it too, as the names of her teammates are scribbled atop the shoes in black sharpie. This also means she is probably a high school student, most likely a junior or senior, judging the size and styles.

Her third pair of shoes are black high heels. She must have bought them for a one-time event, maybe a party or a funeral. I lean towards the latter because the shoes appear brand new. If they had been worn to a party, they would look somewhat used, and she probably would have used them more than once. So, someone died recently whom she knew.

The next shoes on the shelf are a pair of well-worn flip-flops. The green and white stripes are nearly faded and are covered in dirt. She goes to the beach often. Maybe even lives next to a beach. Hence, the sand stuck in the cracks of the shoes.

Her shoe sizes range from eight to nine. She is tall, but slender because the shoes are also slender. Since we've gathered she lives near the beach, she is most likely blonde, as her hair is exposed to much sun, and her skin is naturally tan.

So, with these four pairs of shoes, we have found a gorgeous, grieving, basketball-playing, high school student. Think of how much more we could have learned if we had explored her entire shoe shelf! So, what did I tell you? You can learn a lot about a person from their shoes.

Well, actually most of what I did was pure conjectures, guesswork, imagination, and creativity, but it sure was fun, wasn't it? Now, let's get out of this closet before the owner discovers us here!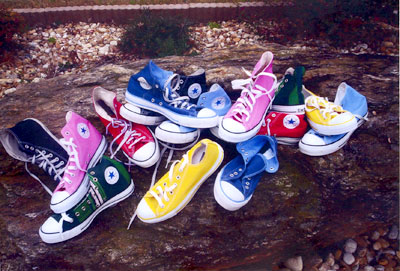 © Leandra L., Stockbridge, GA