The Blade Runner
September 6, 2012
I kept my head high and gaze straight ahead as I ran-just like I always did-and disconnected my thoughts from anything but my short, sharp gasps of breath and the hypnotic pounding of my feet against the track. 'Foot actually, not feet', I thought dryly, I risked a glance down. There was my left leg; whole, muscled, and following my command to move forward, ever forward, the white trainer scuffing slightly against the ground. Then, my right leg...a smooth curve of black metal was strapped to the small stump protruding from my waist, I felt the power of the prosthetic limb as I sprinted on, springing slightly as it made contact with the track and making every stride feel like a half leap into the air. The spectators rushed by the side of my vision, each face blurring into the other until they resembled nothing more than a hazy wave of colour, erupting with the sound of cheers and screams and illuminated by the dizzying flash of cameras. I blinked and looked forward once more, focusing on the one runner still ahead of me, my last challenge. I watched the way they moved and breathed, forcing myself to push my body past both mine and their boundaries, clenching my jaw as my muscles screamed in protest. Then slowly, gradually, I drew level with them. I fought the urge to glance sideways at my opponent and stared straight ahead. My heart hammered as the finish drew near, and we remained in a battle of wills, neither overtaking or falling behind the other. I screamed inwardly with frustration.

Then there was a moment of quiet, where the deafening roars of the crowd-the whistles, the cheers-all faded away, and the world seemed to slow. My rival turned and gave me a warm, genuine smile and I found myself giving one in return. That was when the realisation hit me, in the heat of the race I had lost sight of why I was there in the first place. It was then, in the last few frantic meters towards the finish,that I remembered. I remembered the hesitant sideways looks and misguided sympathy from the self-appointed martyrs, and the raised eyebrows, sniggers and stares from the malicious that used to fill me with hurt, or even worse, shame. I remembered the long, difficult days of training, having to grip various bars and rails to even take a step, and the agonising yearning to run freely and without hesitation that drove me to go on. I remembered the failures and lost attempts that only made me stronger, and the loved ones that had taught me that I was not someone to be pitied. I was not a cripple or a disabled person; I was whole, complete and just as able as anyone else. I remembered why I had come to the paralympics,to prove that with hard-work and dedication you can take whatever life gives you and make the absolute best of it. I hadn't come for a gold medal and I wasn't there to overtake the person running beside me, I was there because of all that I had done.

I snapped back into full awareness with a jolt, adrenaline shot through my veins and a ragged breath escaped my throat. I gathered all the strength I had left and concentrated on simply taking one step after another. The crowd was hysterical now; disjointed bars of songs and chants filled the muggy July air. I felt a bead of sweat trickle down my forward and ground my teeth together. every part of me was tingling with electrifying energy. I was afraid any moment I would collapse of exhaustion, but still drove myself forward to the limit. I told myself I could feel my family and friends watching me, perhaps distinguish their voices from thousands of others. The other runner was still in my vision, out of the corner of my eye I could see them. I wondered briefly what their story was, their past, who or what had sparked that inspiration in them that burned so brightly now. Surprising me, they caught my eye, and for a split-second I swore they had winked. Maybe, I thought, although from opposite sides of the world, we weren't so different after all.

I was as if someone had chained a slab of concrete tightly around my chest, I could feel it pressing against my lungs. I closed my eyes, listening the ca-snik ca-snik of my prosthetic leg as the finish line drew ever closer. I knew the moment I had been waiting for was only a mere few steps away. I looked at my rival one more time and knew for sure they also wanted to prove the doubters wrong. Lost in that moment of unity, I truly believed that we could do more than run, we could fly. And so we did, together, we flew across that finish line.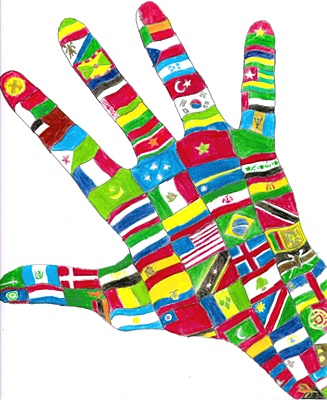 © Adeline N., Ridgefield, C