I Wear It …
MAG
November 17, 2012
I wear it because the smooth silk slides through my pale fingers when I lace it onto my shoulder, delicate to the touch. The material would stretch for over a yard, shining in any light. I feel like a movie star when I encase myself in this scarf.

I wear it because the dominant emerald color enhances my sea-green eyes. The golden streaks weave down, silver sequins shimmering as I adjust it around my neck.

I wear it because as the material curves down my body, the colors daintily glimmer, causing gasps that ricochet in my company's eyes. I know the color, length, and material are perfect for me.

I wear it because it makes me feel glamorous, with the glitter and subtle colors. When it slithers down to arm's length, my fingers entangle in the fabric, calmed by the touch. The scarf fits loosely along my neck, melting into me, becoming part of me.

I wear it because every time I see it, I think of you. You're almost in front of me, long, blonde hair flowing, silky like this scarf you gave me, green eyes twinkling, so like mine. Even now, as I stroke the green cloth, you're beside me, long arms cradling my head, whispering soothing promises.

I wear it because I remember our first date, our first kiss in the restaurant. Watching "Titanic" in 3D, both of us looking equally stupid in goofy glasses with tinted lenses. You presented me with this scarf, and I fell in love with it immediately. We hugged throughout the film, as though our bodies connected in a way neither of us could explain. Afterward, we went to an Italian restaurant, despite the fact that we weren't hungry, thanks to the confections at the cinema stand. At the end, you kissed me – a short, awkward kiss, but perfect all the same. Every time I touch this scarf, that memory flashes back to me, as though it were yesterday.

I wear it because I'm reminded of all the happy memories we've shared. Even the most insignificant details, like your smell, always so fresh and cheerful. Your smile, widening automatically when you spotted me, awakening your features, especially your eyes. They would sparkle and take us into a world of our own. Your laugh, like little drops of heaven sprinkling down on me. It told me that you're the missing piece of my jigsaw. You complete me.

But most of all, I wear it because I love you.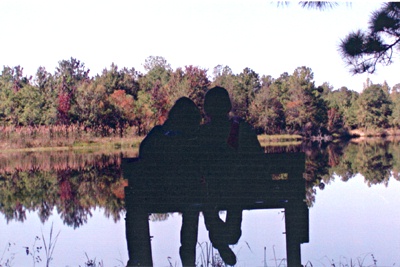 © Heather J., Slidell, LA