For Danny
November 21, 2012
Danny and I had been dating for four months. He was the perfect boyfriend. He was smart. He was funny. He was a great actor. He loved me, and I loved him. But the rest of the world did not approve. I had seen the jocks dump trash on him, shove his head in toilets, scribble "faggot" on his locker. He said it didn't bother him. "One day, we'll move to New York, and everyone will accept me. Accept us," he said. He swore.
He lied.
…
My father was sitting at the kitchen table reading the paper when I came home from school.
I slugged my bag off of my shoulder and said, almost nonchalantly, "Hey dad, did you know a gay kid from school committed suicide yesterday?"
Dad grumbled. Took a sip of beer from a bottle on the table. "Well, kid was gonna go to hell anyway." He shrugged and returned to his paper.
This again.
Hm.
I tried again. "Hope you wouldn't have that reaction if I was gay..."
This was it. I was going to tell him.
Dad laughed. "Well, it doesn't matter, because you're not." He chuckled some more.
Hilarious.
I was silent. I imagined Danny's face, the way his blue braces shimmered when he smiled. I imagined the very last time he would ever whisper "I love you." I drew a breath.
"You're NOT gay…right bud?"
'Why yes, Dad. Yes I am,' I wanted to say, but silent I stayed.
I've got to tell him.
I stared at droplets of beer on the side of the bottle. Watched them slide to the bottom. Listened to the
drip
drip
dripping of the faucet.
"Right?!" I chanced a glance at him. His eyes were pleading. I didn't utter a word. I just looked at the clock. Heard its
tick
tick
ticking.
"Jack, please tell me you're not gay..." My father was begging. He might as well have been on his knees. He looked like he might even cry...
I swallowed.
I looked at him.
The beer droplets danced, anticipating my confession.
The faucet
dripdripdripped at a new pace, almost as fast as my thumping heart. The clock ticktickticked, waiting for the inevitable.
I opened my mouth.
I looked again into my father's eyes.
And then I laughed.
"Of course I'm not gay," I snorted, slapping my knee. "I got ya, though, didn't I?"
Dad smiled and sighed with relief.
"Haha. Good one. You scared me for a bit there, bud."
Scared him.
"Me? Gay? Ha! What a joke."
Dad went back to his newspaper. I went to my room. Conflict diverted.
I'll tell him someday, I swear.
I'll tell him...for Danny.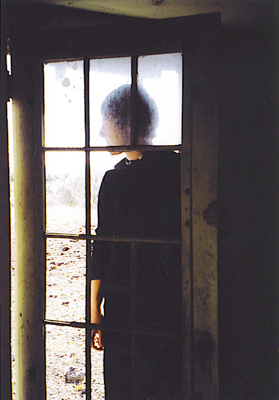 © Lindsay S., Billings, MT