Casual
January 14, 2013
She bent her head up to face the ceiling, lying exposed atop the love-wrinkled sheets of the bed, her soft lips compressed as though to whistle, though instead she exhaled almost with a moan a thick and livid smoke, using her tongue to curve and shape it into an ambiguous 'O' that rose and rose with height, every second stretching it farther and farther apart until it shattered silently against the textured ceiling, a standing lamp in the corner of the small room casting a yellow glow just bright enough to make the dying 'O' visible to her open-closed azure eyes, until she sighed and brought the half-burnt cigarette back to her lips and sucked in another lungful of shadow poison.

"Aaron?" she called with meager hope, the color in her eyes sparking and dying as quickly as the smoke, realizing that Aaron had already left, his euphoria gone, his problems solved, his mind elsewhere, and she let her eyes search the bookshelf that belonged not to her but her deceased father, scanning past the volumes marked with names like Bradbury, Orwell and Huxley, nothing that leaped out at her like the ecstasy of a frenzied climax, so she stopped searching and settled herself with the shadow poison and the coin on the dresser.

"Casual," she muttered and took in a breath of clean air, finding no satisfaction, so she brought the damn thing to her lips again and closed-closed her eyes.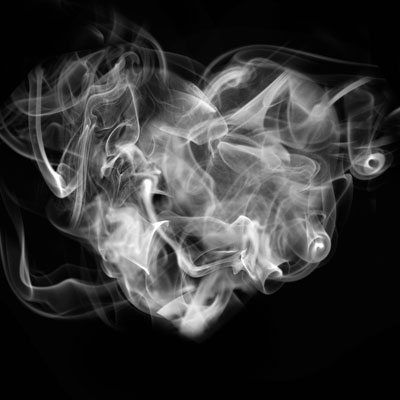 © Olivia E., Alto, MI