Fading Memories
June 4, 2013
I awoke to the light filtering through the gauzy curtains. The sunlight was warm on my face, and the sound of chirping birds tickled my ears. I slowly eased myself out of the big, empty bed, a simple task that was becoming more and more difficult each day. I had been advised by my friends to take to living with other family, or worse, at a senior home, but I refused to leave the house. There were too many memories here, and leaving them behind would be like leaving my whole self here. Like stepping out of my skin. I may as well die—I would rather die.
So with my feet on the ground, I began to make my way downstairs with shuffling steps. In the kitchen, I looked out the window at the pristine suburban street. I saw the children running down the sidewalks, hollering to their friends. I saw middle aged men and women going into their cars dressed in their neat and tidy suits and skirts, preparing for the work day. I remember when I was one of them.
Thinking about the past is like glimpsing into a different life, or a different world. At a first glance, the memory is blurry. But as I keep thinking about it, the events and emotions connect, and I can see in color again. I remember waking up every morning and pulling on my suit and coat. The house would always be filled with laughter, or music, or any kind of noise at all. As I descended the stairs, the smells of breakfast would tickle my nose. When I would reach the foot of the staircase, the first person I would greet might be my son Danny, or George, but most likely it would be my wife Linda. Then, we would all sit down for breakfast and talk about our day's plans, while our orange cat Sammy would pace at our ankles.
Sometimes, after I catch myself staring out the window for too long reminiscing, I turn around half expecting to see them all there at the table, or on the sofa. But, of course, they're long gone now. And the cat ran away years ago. Sometimes, I dream about them. In my dreams I revisit old memories, like paging through the musty photo albums on the coffee table in the living room.
It was my fault they left. What I had done to them was wrong. But I still cannot bear to let the memories go. On a whim, I grab the phone book from the cabinet and leaf to "George Turner."
I listen to the rings…one…two…three…
"Hello, this is George Turner." I want to cry.
"I'm sorry; I can't take your call. Please leave a message and I will get back to you soon."
I leave a message. All I say is "I'm sorry," because I had always been too proud to tell him. But playing back the message, the fuzzy words didn't seem to speak my heart.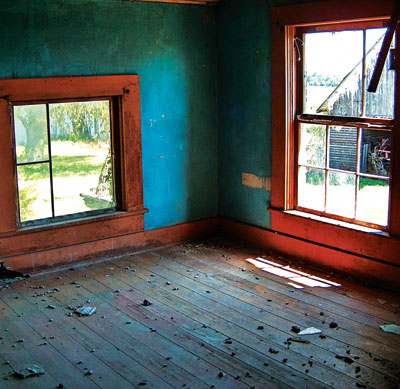 © Sean C., Princeton, IL