The Broken Thing
July 9, 2013
The day I went to the beach, she captured my heart.

I'd gone as a favor for my sister. There were teens in swim gear, holding drinks spiked with alcohol. I remember sitting on an empty beach chair, watching as my sister approached a tattooed guy, and wondering if I was supposed to be doing something worthwhile.

But then she came. Her hair was honey, her eyes the sky, and she wore a smile that seemed to hide hundreds of secrets. I was entranced by how perfect she was, but that was before I got to know her.

"Sand castle," she said firmly, almost an order. I sat down beside her, and she produced a pail and a shovel. And that was that.

Her name was Caroline, and she had come up to me because she thought I looked lonely. She enjoyed watching the sun rise and her favorite season was summer. She loved her mother and hated her father, and when I asked why, she just smiled.

"Maybe later, Nate. Maybe I'll tell you later."

Sometimes, I thought I knew why. Those times came years later, when she'd come knocking on my window in the middle of the night, face streaked with tears, and I'd climb outside to sit with her. She would never tell me what upset her. Instead she would drench my shirt with her tears and later stare at the stars, naming all the constellations. She would sing herself to sleep and was gone by sunrise.

The last time she came over was a summer night, but her face lacked the tears.

"I'm leaving," she said when I climbed outside. "In the morning."

"Did something happen?" I asked. "Was it Jimmy?" Who was her boyfriend.

"No," she said, and I thought about the mother she loved and the father she didn't. "But I need to go. You understand, don't you?"

I didn't understand, but I thought I understood her. I swallowed and nodded. "Where are you going to go?"

"Somewhere. Everywhere. I'll call you."

And that was that. By sunrise, she was gone.

Time passed and she never called or tried to contact me in any way. Eventually I forgot about Caroline and the side of her I thought I knew. I dubbed her as some broken thing I should have never kept, with her broken smile and her broken secrets, and I threw it all away.

The summer of my nineteenth year, I returned to the beach with my sister and sat on an empty chair. I watched her hug the tattooed guy and turn down a drink in a plastic cup, and wondered why I'd come in the first place. Then my phone rang and I answered it without checking the number.

"Hello?"

"Nate," a voice said firmly, almost an order. I turned to look and there she was, the broken thing, with her honey-colored hair and blue eyes, holding a pail and a shovel. She smiled her secret smile and I smiled back.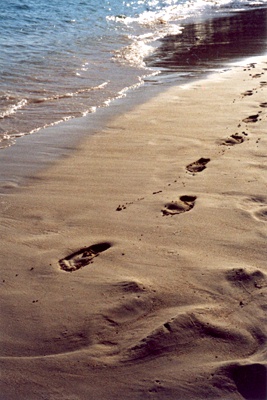 © Ashley B., Potomac, MD