How a House Becomes a Home.
October 11, 2013
Him and Her. She and Him. It was the two of them since the beginning of them. Life was their playground of adventure, they were given opportunities in all aspects of their lives, they traveled the world when they were young and then settled down when they discovered that a chapter in their lives was coming to a close, while another was opening.
She and Him, they traded in their two door car for a four door minivan, their backpacks for diaper bags and their hostels, hotels and motels for a quaint house on Denton Drive. Life changed, but in a good way. They watched and raised their children in that house, saw their first steps, heard their first words and felt the hot tears that came along with stubbed toes and hard days at school.
To Him and Her, time was on their side and it seemed that they were stuck in that period of their life; but strangely it was a good stuck, it was a stuck that felt secure. But just as quickly as they were stuck, years passed and that stuck feeling faded. They traded dolls and plastic tiaras, trucks and Legos for makeup and laptops, textbooks and dorm materials. And finally, they traded Denton Drive for Geary Avenue.
She and He moved their boxes into that house on Geary Avenue. A smaller space just for the two of them, it was their dream house, what they had worked towards all of their lives. But as they lay next to each other during that first night on Geary Avenue, the sheets felt cool against their skin, their master bedroom felt empty. There was a sense of the unknown and maybe a little of sadness. As they turned on their sides, away from each other- thoughts engulfed their minds about this new house. They had been caught up in the all of the excitement that they hadn't got a chance to say a full goodbye- if a full goodbye is possible at all. Leaving a home is somewhat like leaving a best friend, there's never a goodbye that satisfies the heart, nor another friend that could take their place.
As She and He began their new journey through the new house, they were often reminded of that quaint home on Denton Drive. The new house was unflawed; nothing structurally was missing which was a relief to both of them. Yet something else was vacant. The memories that once traced their old home were vanished. Carving pumpkins in the crisp months of October seemed so far away, quiet evenings in the spring making dinner while their children talked about their days weren't the same with a new house and kids miles away.
Seasons passed in that Geary Avenue home. He and She were settling into the new house and making new memories of their own. Christmas Eve was different, yet held more meaning to them as they watched old movies together and reminisced on past years of Christmas's with their children and even those beginning years when it was again- just the two of them. The once empty and cold house was filled with giggles of grandchildren and warm embraces from their own children returning. And after a while, even after the kids and children left- even after the company were long gone, the once new house became a home.
She and He lay next to each other one night. The palms of their hands rested on the soft cotton sheets beneath them. They felt warm and secure, the walls around them safe and protective. As the world outside of their home winded down, those thoughts of past, present and future danced around in the back of their minds. She looked over at him and he looked back at her. A simple thought generated from that glance hung in the air: A house is simply a place; a home is the people that fill it. It had been Him and Her since the beginning of them. Together, they had made a home.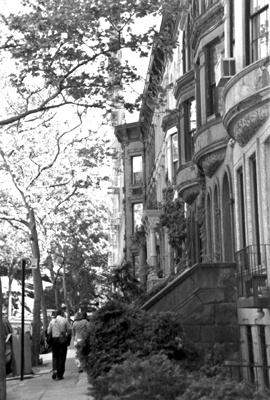 © Sarah M., Phoenix, AZ