Who is the One?
October 9, 2013
Dear Diary,
For so long I've fallen in love and had that love crushed. If that was by disappointment, or by repositioning, I've felt the pain and distant prick that love can bestow upon the lover.
But, then again, what is love? Is it that fuzzy feeling you get when you stretch out your legs and curl up by the hearth on a cold winter's night? Or is it more like the rumbling, crashing, horrible storm that fell onto Jesus and his disciples in the ocean? Love, with its complications, can be taken as a wondrous, pleasant feeling or a bad, unmistakable feeling of terror and pain. Love can be comfortable or unnaturally exciting. Either way, everyone hopes to experience this lovely feeling called love.
My life itself has been filled up to the brim with all the feelings, confusion, and overall—heartbreak. I've had minor crushes blown away with the wind by the odd measures of future's secrets and unnatural habits, you could say, for children. Then, there was the one.
My second crush was my first real crush. It was one of those crushes that made your stomach flutter or your cheeks burn and blush. When I spoke to him, my heart raced . . . or might as well have. That once time our hands touched, I lost my breath. My heart skipped a beat. I felt like screaming to the world. Some people may find it stupid, cheesy, or downright annoying to hear about. To those people, I say they haven't truly experienced love, then.
He, my second crush, moved away less than a year after my love's development. I was crushed; torn between moving on or staying behind. My mind drifted between forgetting him to mourning the fact I'll never see him again. He meant so much to me, it makes me sick to think about it. But then he just disappeared from my life. Just like that.
My crush has appeared in my dreams, like a haunting ghost that refuses to leave. It may sound babyish, but I've cried, thinking about him. How I long to see his face, just one last time. How I long to hear his voice.
Perhaps the reason why this is particularly killing me is because I never knew. I never knew how he felt about me. I'm positive he knew how I felt about him, but I doubt he loved me back.
I feel like Romeo when he loved Rosaline. He fell head over heels for her and felt he couldn't live without her. He was depressed until he met Juliet. I'm still waiting for my "Juliet". The one person to snap me out of it. The one person to make me forget.
(Okay, maybe not a perfect metaphor since they both die at the end, but you get where I'm coming from?)
But what if there is no one? It could be possible that the boy who moved away was my one true love. I don't believe in soul mates. It is way too slim of a chance that someone would find their "one". You would have a better chance of winning the lottery or getting struck by lightning.
I pose this question to you: how do you know? How do you know if someone is perfect for you? Do you know if someone's perfect for you? Have you ever cried for someone that's left you? Had that person appear in your dreams? Would it be enough? How can you be sure?
Was he the one? And if he is? If he is the one . . .
I let him get away.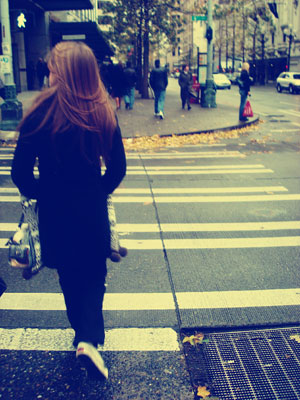 © Adria O., Edgewood, WA