Behind you
December 14, 2013
All I can see is your back.

Muscular broad shoulders, coated in a dirty, camouflage jacket.
Pony tail sticking out the back of your worn out cap.
Your shadow falls long and dark in front of me. A path I follow always leading me to you, you who are already so far ahead of me.
Closer I tip-toe towards you like a scared child after a fight sneaks back downstairs to see if he might be forgiven yet.
Never quiet enough I hear the creak of the ground, the crack of a twig, a sharp breath in.

I freeze hoping that you didn't hear me and at the same time wishing you'd turn around and face me so that I'd know I was forgiven.
You pause in your steady pace, for just a moment. I relax thinking "it's okay now" knowing that when you turn around with that silly grin on your face and tell me another of your cheesy jokes that all's forgiven.
Bump, Bump,Bump. Your steps continue on. The path I followed becomes thinner as you walk away from me.

Rushing forward I dare not to blink thinking that I might lose sight of you. That you'd disappear.
I catch up to you once again, careful not to get to close.
Faithfully following where-ever you lead me.
Not reaching out but waiting patiently for the day when you turn around. Finally, inviting me to walk beside you with outstretched hand.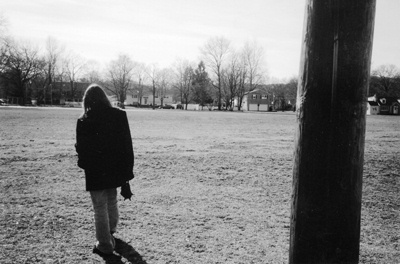 © Rosalie P., Pompton Plains, NJ