Shoelaces
February 3, 2014
It was my Aunt Julia who first introduced me to running. I remember how she first bent down and taught me to tie my shoes. "Always make sure your shoes are tied, Madison." Then she took me on a jog. "Don't give up, Madison," She told me as I grew tired. I had only been eight. Now, being thirteen, running is my life.
Whenever I try to tell my sisters about the adrenaline I get when I run, they just roll their eyes. God, I wish I had a brother. Or at least a tomboy sister, like me. You see, I can barely stand the three prissy sisters that I have already. I would easily replace any of them with a big brother, one who would joke with me, laugh with me, and run with me.
Running is a natural gift of mine. When I wear tennis shoes instead of flats, people frown. Like being little sister to Jane Sylvia White, class president of class of 2013, valedictorian, head of prom committee, voted 'most likely to succeed' and 'best fashion sense' by her high school class, should make me some prissy eighth grader with an eye for fashion and a heart to be popular.
You see, I have a lot to live up to.
I bend down and tighten my sneakers. They're brand new, for a brand new year of school. I stand up, and cough into my sleeve. I take a few deep breaths in, then out, then in and out again. I stare down at the dirt hiking path, worn down over the years of use, the path cleared of rocks that had once been posed to trip. The trail bent left to make a lap about 1.2 miles up, and after about one mile left, you would take another 1.2 miles streak to get to my house. The whole thing was like a U, all through woods filled with squirrels, snakes, and deer. Together, it was a little more then a 5k.
This was my path, my place. I could do this, if I tried. Run the whole thing. And I have. But not for a while.
Yet I only had one more day before stressful amounts of homework and tiring hours of studying take the place of leisurely jogging through my neighborhood and quietly reading novels under the cover of trees.
So I begin to run. And with each slap of my foot against the ground, I know I am getting closer to my goal. Closer of being the fastest miler in the eighth grade.
That goal brightens my face. When I run with these new shoes, everything feels better. I vow that things will be different this year. No more of the teasing, no more of the shame.
No more failures.
As I fly past the trees, their branches seemed to reach out to cheer me on. I feel their peace and tranquility, as they stand in this gentle, quiet forest. The only sounds are the crickets and my breath.
Before I know it, I pass the gnarled oak that marks half a mile. Go, Madison! It seems to tell me. Keep on running! I am still going strong, though I'm beginning to feels slight aches of tiredness in my chest. Yet I persevere.
Soon enough, I turn left. I have to stop to sneeze, and it takes me several seconds to continue my run. Was this how Gabriela Szabo had felt, as she beat the Olympic record of about fifteen minutes in a 5k?
My sneakers dig patterns in the dirt. I tell myself that every step is bringing me closer to being the first woman athlete to run a 5k in less then fourteen minutes.
To my shame, I have to stop. I should have brought water with me. But I had left a bottle sitting on a rock at the end of the path, and the trees give me nice shade.
So keep on running.
I am running past everything that has gone wrong in my life. Each rock represents a challenge. The first one, my sisters. The second one, the bullies. The third, my aunts death.
I wipe at my cheek, but blame the wetness on the wind in my eyes instead of tears. I have been through so much. I don't want to think of the woman who had left me, the same woman who had first tied the laces to my sneakers and taken me on a jog.
I turn left again, and am on the last streak. I imagine a dozen or so other athletes running besides me. We are competing in the Olympics, competing for the gold.
That gold has to be mine.
I force my legs to go faster, and my breath to be steadier. Yet my legs scream for a break, a short one, at least.
How will I win the race like this?
The ultimate race, the race of life and success. Against my friends and my enemies.
Am I winning?
I can see the finish line. The two trees that stand guard at the end of the path. Hadn't I once traveled here when I was a toddler? The first time being carried in my mothers arms?
Even when I was a baby, I wonder if I had loved to run like I do now. Could anyone see the energy behind my strides, the delight behind my first steps?
Not my first steps walking, but my first steps running.
I pick up my pace, just a little bit. Just enough to run ahead of my imaginary competitors, just enough.
I grin as my feet hit the grass off the dirt path. I fall to my knees, and gulp down the water that I left there. Then, I stand up and begin pacing. I wipe sweat from my forehead and dirt from my shoes. They are already beginning to look worn.
I don't check my watch to see how long I have been running. Do I really need to know? I already know that I won.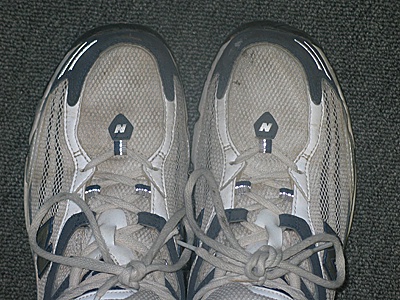 © Brian P., Phoenix, AZ